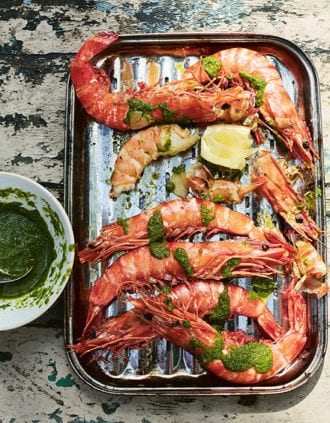 This seafood dish from Dinner in French author Melissa Clark is as easy to make as it is delicious. "Flambéed dramatically in brandy and finished with butter, this makes a stunning, company-worthy dish—just as long as your company doesn't mind eating messy green sauce–covered shrimp with their fingers," writes Clark.
For the sauce
6 Tbsp. extra-virgin olive oil
¼ cup packed fresh parsley leaves
¼ cup packed fresh basil leaves
2 garlic cloves, finely grated or minced 2 Tbsp. chopped scallions (greens only)
1½ Tbsp. chopped preserved lemon
1 jalapeño (seeded or not, depending on desired heat)
1 tsp. lemon juice, plus more to taste
½ tsp. fine sea salt, plus more to taste
For the prawns
¼ cup extra-virgin olive oil
6 garlic cloves, very thinly sliced
1½ lbs. giant prawns or shrimp, in the shell
½ tsp. fine sea salt, plus more as needed
2 Tbsp. brandy or pastis
2 Tbsp. unsalted butter
To make the sauce, in a blender combine the oil, herbs, garlic, scallions, preserved lemon, jalapeño, lemon juice, and salt with 1 tablespoon of water until the sauce is well- blended and smooth. Taste, and add more salt or lemon juice if desired.
To cook the prawns, heat the oil in a large skillet over low heat, then stir in the sliced garlic. Cook slowly until the garlic is golden and fragrant, 3 to 6 minutes. Don't rush this—you want evenly cooked, lightly golden garlic slices. Add the prawns to the skillet, sprinkle with the salt, and cook until the shrimp just turn opaque but are not cooked through, 2 to 3 minutes or less. Remove the skillet from the heat.
Pour the brandy or pastis into the skillet and using a long lighter or long match, carefully ignite the alcohol. Once the flames have died down (there might not be a lot), return the skillet to medium heat and whisk in the butter and 1⁄4 cup of the herb sauce. Continue to cook until the prawns have cooked through, 3 to 5 more minutes. Taste the sauce, and when the sting of the alcohol has mellowed and the sauce has condensed slightly, it's ready. Serve the prawns with more herb sauce on the side.
Reprinted with permission from Dinner in French: My Recipes by Way of France by Melissa Clark, copyright 2020. Photographs copyright by Laura Edwards. Published by Clarkson Potter, an imprint of Penguin Random House.
---
Did you enjoy this recipe? Sign up for our newsletter and get weekly recipes and articles in your inbox.