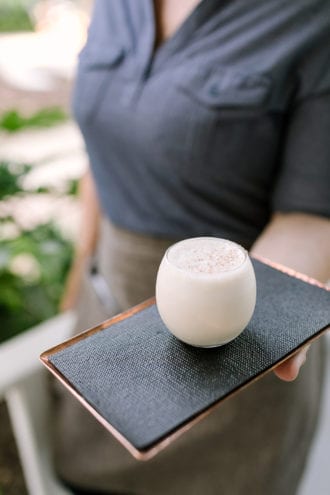 "The classic milk punch recipe called for quality booze and true vanilla ice cream, but unfortunately, over the years the booze got cheaper and cheaper, and the ice cream less and less resembled the ice cream of the past," says Mattie's Beverage Director Jason Stevens of one of his favorite drinks. To bring the recipe back to its former glory, Stevens looked to a recipe from Mary Faulk Koock's acclaimed The Texas Cookbook, published in 1965. His version of the punch combines three kinds of booze, real vanilla bean, crème de cacao and rich maple syrup, finished with fresh-grated nutmeg. Note: Stevens stirs this drink instead of shaking, so to keep everything cold, he recommends storing the milk and alcohol in the fridge ahead of time.
1 oz. bourbon
¾ oz. Cognac
¼ oz. Jamaican rum
4 oz. half & half
2 oz. whole milk
½ oz. grade A or B maple syrup
½ oz. crème de cacao
½ tsp. vanilla paste
Tools: barspoon
Glass: rocks
Garnish: grated nutmeg
Combine all the ingredients in a mixing tin without ice and stir vigorously to make sure the vanilla is fully dispersed in the mix (you can also use an immersion blender). Pour into chilled cups, then grate fresh nutmeg over the top.
Jason Stevens, Mattie's, Austin
---
Did you enjoy this recipe? Sign up for our newsletter and get our favorite drink recipes of the moment in your inbox every month.