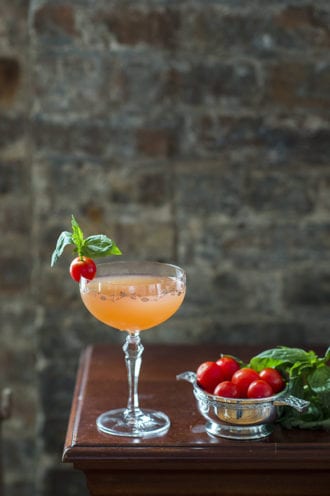 Forget canned tomato juice—here, fresh, sweet tomatoes make all the difference.
6 cherry tomatoes
6 basil leaves
½ oz. simple syrup (1:1)
2 oz. blanco tequila
½ oz. dry sherry
½ oz. fresh lemon juice
Pinch salt and pepper
Tools: shaker, muddler, strainer, fine strainer
Glass: coupe
Garnish: 1 cherry tomato and 1 basil leaf
In a shaker, gently muddle the tomatoes, basil and simple syrup. Add the tequila, sherry, lemon juice, salt and pepper and shake with ice to chill. Fine-strain into a coupe. For the garnish, pierce a small hole in the top of the tomato and insert the stem of the basil leaf like a flag. Make a slit in the bottom of the tomato and perch the tomato on the rim of the glass.
Tip: To make this drink in larger yields, pulse the tomatoes and basil in a food processor 5 or 6 times, then strain through a fine-mesh sieve or a piece of cheesecloth and discard the solids.
Reprinted with permission from The Craft Cocktail Party by Julie Reiner with Kaitlyn Goalen. Published by Grand Central Publishing Life & Style.