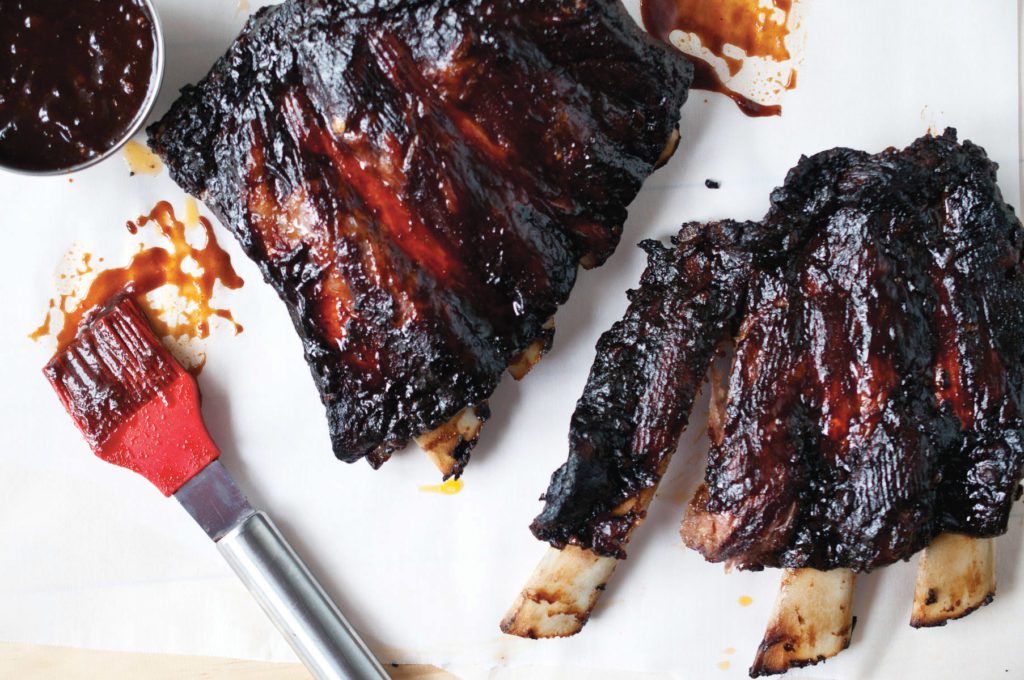 Beer-spiked barbecue sauce lends some finger-licking goodness to these slow-roasted maple stout baby back ribs.
1 Tbsp. olive oil
1 shallot, minced
4 cloves garlic, minced
½ cup low-sodium soy sauce
⅔ cup ketchup
2 Tbsp. Worcestershire sauce
1 tsp. red chili sauce (such as Sriracha)
2 tsp. smoked paprika
1 cup stout beer
⅓ cup maple syrup
1 tsp. onion powder
5 pounds baby back beef ribs (pork ribs will also work)
Salt
Preheat oven to 250 degrees F.
Heat the oil in a pot over medium-high heat. Add the shallots and cook until soft, about 3 minutes. Add the garlic and stir until fragrant, about 30 seconds.
Add the soy sauce, ketchup, Worcestershire sauce, chili sauce, smoked paprika, stout, maple syrup, and onion powder and stir until well combined. Cook until thickened, stirring occasionally, about 15 minutes. Remove from heat.
Place the ribs on a baking sheet. Sprinkle on all sides with salt.
Brush liberally on all sides with barbecue sauce. Place in the oven and roast until falling off the bone, 3 ½–4 hours, turning and basting with barbecue sauce every 30–45 minutes.
Serves 4.
Excerpted with permission from The Craft Beer Cookbook­ Copyright © 2013 by Jacquelyn Dodd and published by F+W Media, Inc.