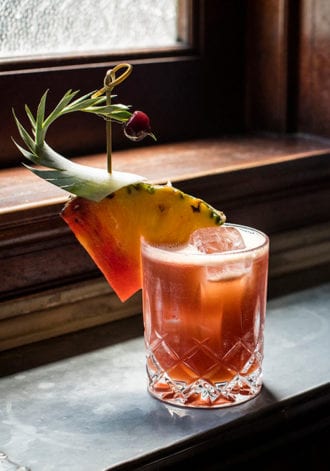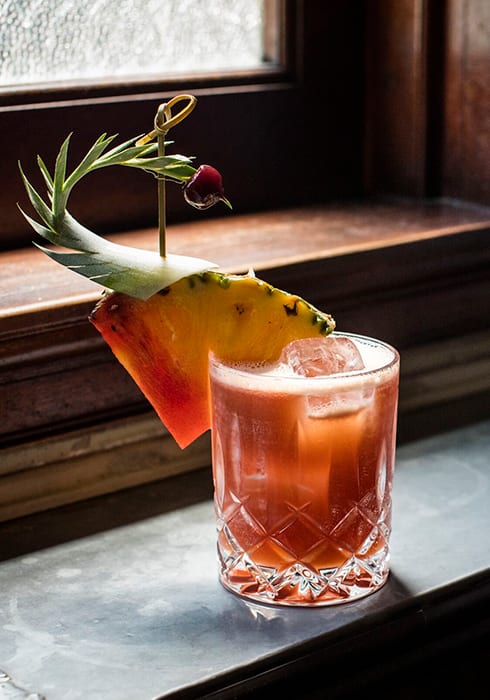 Maison Premiere's Jungle Bird recipe takes a few liberties with the original and adds a show-stopping garnish.
¾ oz. Jamaican rum (Elliot uses Hamilton Jamaican Pot Still Black Rum)
1 oz. blackstrap rum (Elliot uses Cruzan)
¾ oz. Campari
½ oz. sugarcane syrup (Elliot uses J.M. Sirop De Canne)
¾ oz. fresh lime juice
1 oz. pineapple juice
A few drops saline (4:1, water:salt)
Tools: shaker, strainer
Glass: rocks
Garnish: Campari-soaked pineapple wedge, pineapple leaf, cherry
Combine all of the ingredients in a shaker with crushed or pebble ice and shake briefly to combine. Strain into a rocks glass over a large ice cube. Garnish.
Will Elliott, Maison Premiere, New York City  
---
Did you enjoy this recipe? Sign up for our newsletter and get weekly recipes and articles in your inbox.