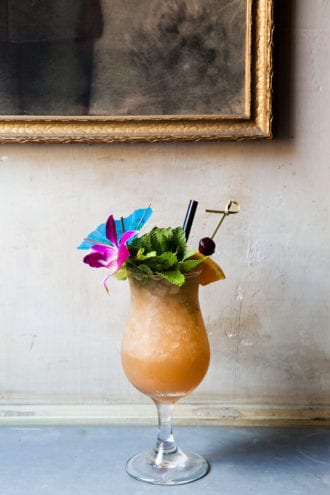 For Maison Premiere's take on the Mai Tai, Will Elliott tweaks the rum selection, switches up the glassware and dresses up the garnish.
1 oz. amber rhum agricole
¼ oz. blackstrap rum
¼ oz. overproof Jamaican rum
½ oz. aged rum
½ oz. orange curaçao
¾ oz. orgeat
1 oz. fresh lime juice
Tools: shaker
Glass: Poco grande
Garnish: mint sprigs, cherry, pineapple or banana leaves, orchids
Shake all the ingredients with crushed ice and pour (unstrained) into a glass; fill with crushed ice, then garnish.
Adapted by Will Elliott, Maison Premiere, New York City
---
Did you enjoy this recipe? Sign up for our newsletter and get our favorite drink recipes of the moment in your inbox every month.