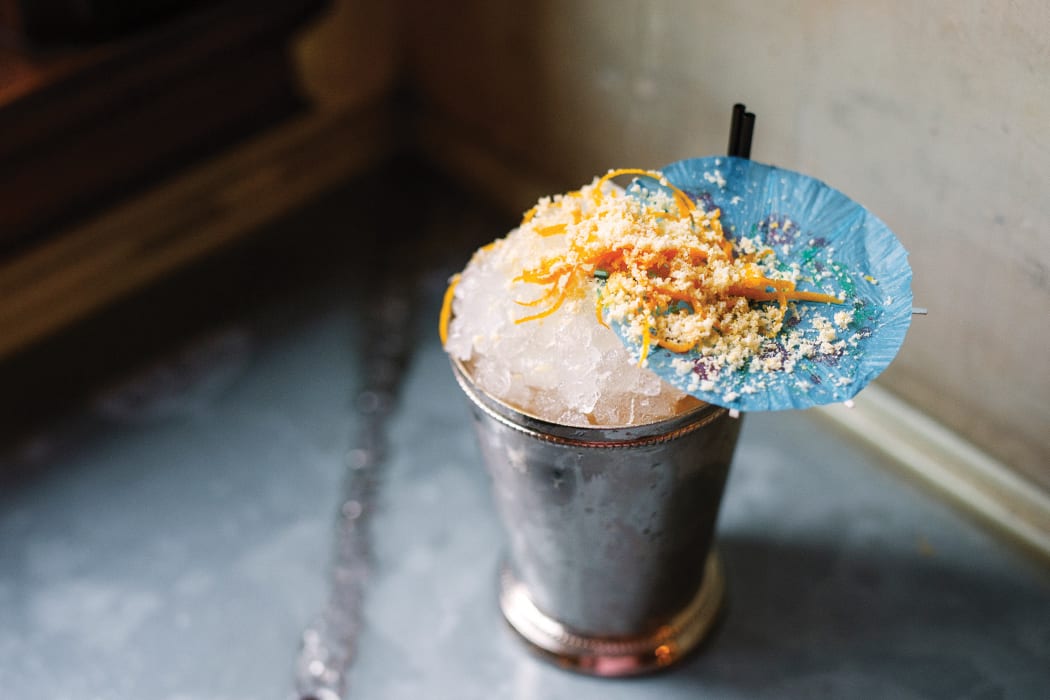 "This drink was a happy accident," Will Elliott says, the product of experimenting with seemingly disparate ingredients and finding a common ground, with the nuttiness of sherry meeting the spice of whiskey. "I wanted to make this drink smell like walking into an Italian bakery in the morning, with marzipan, baking spice and citrus." A paper umbrella provides not just a colorful touch, but a surface on which aromatics can be added—in this case, shaved candied marcona almonds and a stack of citrus-peel shards, which add an arresting fragrance to the finished drink.
1 oz. manzanilla sherry
¾ oz. Cappelletti aperitivo
½ oz. rye whiskey
½ oz. fresh lemon juice
½ oz. orange flower water
¼ oz. orgeat
3 dashes orange bitters
Tools: microplane grater, fine grater
Glass: julep cup
Garnish: parasol, candied marcona almond, orange zest
Fill a julep cup with crushed ice and add the ingredients. Stir to combine, then add more crushed ice to fill. Open an umbrella and add it to the glass; use a fine grater to create a fluffy mound of orange zest on top of the drink, then use a microplane grater to shave a candied marcona almond over the top of the umbrella and orange zest. Serve with 2 short (biodegradable) straws.
Will Elliott, Maison Premiere, New York City
---
Did you enjoy this recipe? Sign up for our newsletter and get weekly recipes and articles in your inbox.