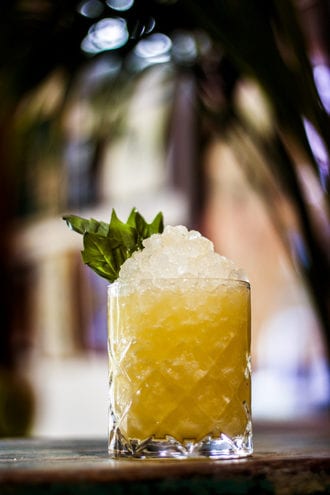 The Mai Tai has proven to be an exceedingly riffable cocktail, and Hey Love owner and beverage director Emily Mistell hits a home run with her Secret Life of Plants, an absinthe-accented variation that calls for white rum and a flavorful syrup made with mango purée and oolong tea. It's "the most delicious salty, mango-oolong Mai Tai of your dreams," Mistell says.
1½ oz. white rum
¾ oz. mango-oolong syrup
¾ oz. fresh lime juice
¼ oz. orgeat
¼ oz. velvet falernum
10 drops salt solution (1 part salt: 5 parts water)
Dash of absinthe
Tools: shaker, strainer
Glass: double rocks or 14-oz. tumbler
Garnish: Thai basil bundle
Combine all of the ingredients in an ice-filled shaker, shake to combine, then strain into a glass. Top the cocktail with crushed ice and garnish.
Mango-Oolong Syrup: In a saucepan, heat 12 oz. of water to 195 degrees Fahrenheit then add 4 Tbsp. of oolong tea leaves and steep for 5 minutes. Strain the tea leaves out of the brewed tea, then return the tea to low heat, adding 850 g. of mango purée (Hey Love uses Perfect Purée), 850 g. of white sugar, 1 12-oz. can of mango nectar and 12 g. of citric acid. Stir over heat until the sugar is dissolved and the ingredients combined. Keep refrigerated for approximately 1 month.
Emily Mistell, Hey Love, Portland, Oregon
---
Did you enjoy this recipe? Sign up for our newsletter and get weekly recipes and articles in your inbox.