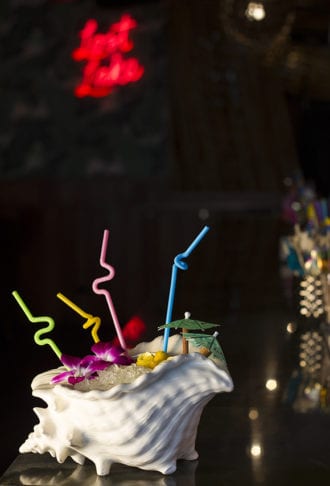 One of the most famous tiki cocktails made with gin, the Fog Cutter recipe gets a flavorful update from Lost Lake in Chicago.
1 oz. gin
1 oz. aged rum (Lost Lake uses El Dorado 3 Year)
1 oz. Cognac
2 oz. fresh lime juice
1 oz. orgeat
½ oz. sherry (Lost Lake uses Lustau East India)
½ oz. curaçao (Lost Lake uses Pierre Ferrand Dry)
½ oz. simple syrup (1:1)
1 dash Angostura bitters
Tools: shaker, drink mixer (optional)
Glass: tiki mug
Garnish: tropical assortment (edible flowers, umbrellas, etc.)
Combine all ingredients in a shaker tin, along with 2 cups of crushed ice. Buzz for three seconds with a spindled drink mixer (the bar uses a Hamilton Beach Drink Mixer), or shake really hard until the ice is broken down. Pour the contents of tin into a tiki mug and top with more crushed ice. Garnish.
Paul McGee, Lost Lake, Chicago