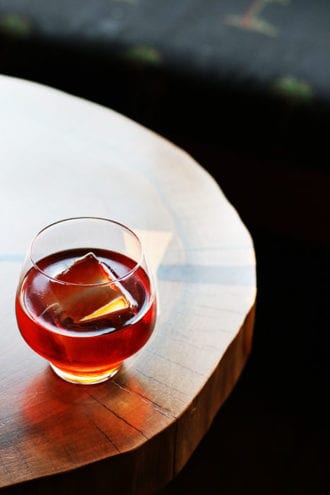 Pineapple rum lends an extra-fruity flavor to this Kingston Negroni riff from Lost Lake in Chicago.
1 oz. Jamaican rum (Lost Lake uses Appleton Signature Blend)
1 oz. Plantation Pineapple rum
¾ oz. sweet vermouth (Lost Lakes uses Cinzano)
¾ oz. Campari
Tools: mixing glass, barspoon, strainer
Glass: rocks
Garnish: orange peel
Stir all of the ingredients in a mixing glass with ice. Strain up or over a large ice cube, Express an orange peel over the drink, then use as a garnish.
Shelby Allison and Paul McGee, Lost Lake, Chicago
---
Did you enjoy this recipe? Sign up for our newsletter and get weekly recipes and articles in your inbox.