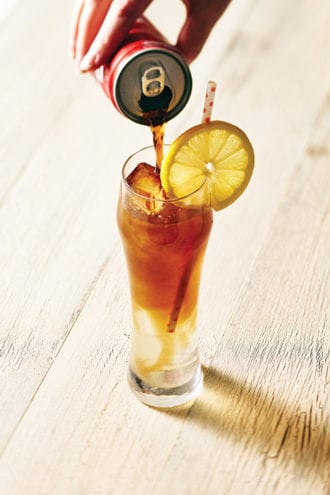 Like an evil twin—identical in appearance, oppositely intentioned—Long Island Iced Tea is a deceptive stand-in for its counterpart: basic iced tea. Rather than a long sip of refreshingly cool black tea, the LIIT is a log flume of five clear liquors disguised by a golden splash of cola, credited to Suffolk County bartender Bob "Rosebud" Butt, who conceived it during a cocktail competition in 1972.
More recently, bartenders have tweaked the drink's notoriously excessive formula. "People often turn up their noses at people who order this drink, because they think they're just ordering it to get bombed," says Chaim Dauermann, co-owner of Stay Gold in New York City, which serves a LIIT made with a pisco-based lime cordial. "But truth be told, it doesn't have much more punch to it than a dry Martini—something practically any fancy bartender will happily order." So don't let preconceived notions stand between you and your summer of the Long Island Iced Tea. "I'm an advocate for the view that, when it comes to cocktails, there's no right or wrong time to order anything," he says.
¾ oz. vodka
¾ oz. gin
¾ oz. white rum
¾ oz. blanco tequila
¾ oz. orange liqueur
¾ oz. lime cordial
½ oz. fresh lemon juice
Coca-Cola (or other cola)
Tools: shaker, strainer
Glass: Collins, or other 12-oz. glass
Garnish: lemon wheel
Shake all the ingredients except the cola with ice, then strain it into a chilled glass and fill with ice cubes.
Lime Cordial: Separately peel and juice 16 limes; refrigerate the juice. In a sealable container, combine 1 cup of pisco with half of the lime peels. In a separate sealable container, combine 1 cup of granulated sugar with the remaining lime peels, then cover tightly. Shake the sugar mixture until the peels are coated and the sugar is evenly distributed. Let both mixtures sit for 24 hours at room temperature, then combine the pisco mixture with the sugar mixture, adding 1½ cups of lime juice. Remove most of the peels if you can, then add an additional 1½ cups of sugar. Stir until the sugar is completely dissolved, then strain through cheesecloth to remove the remaining peels and other debris. This recipe yields 1 quart and can be stored in the refrigerator for up to 2 months.
Adapted by Chaim Dauermann, Stay Gold, New York City
---
Did you enjoy this recipe? Sign up for our newsletter and get our favorite drink recipes of the moment in your inbox every month.