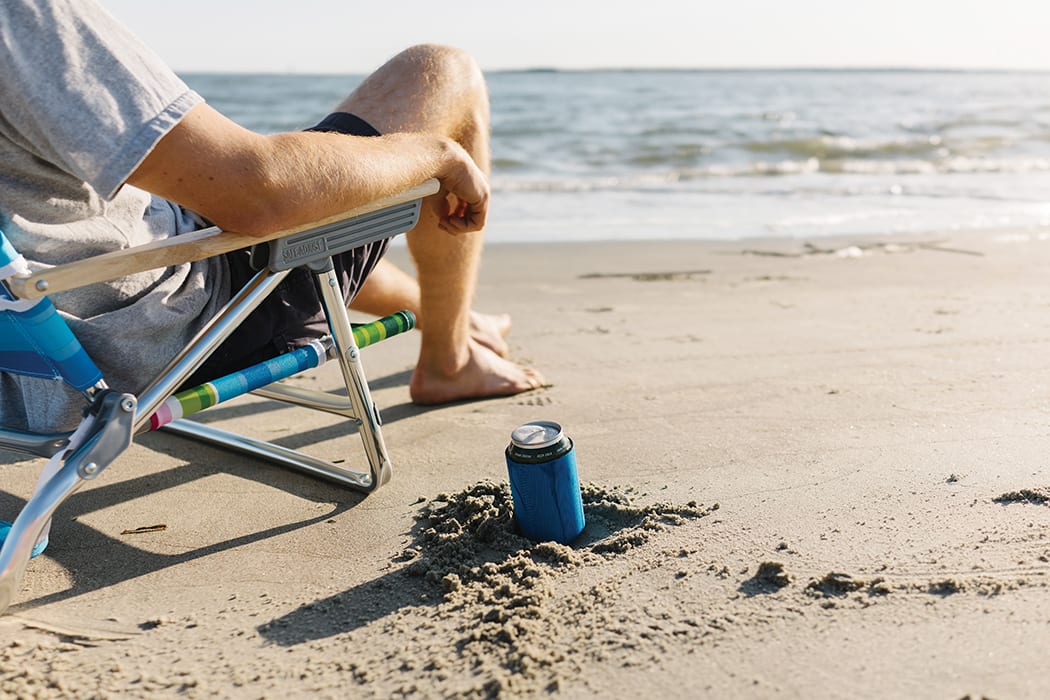 Doug Reiser's tale of teenage rule-breaking has a familiar ring. From 15 on, he filched cold Busch beers from his dad's fridge, just another kid illicitly wading into lager's bubbly waters. Unlike most peers, Reiser became a connoisseur of mass-market beer. "I didn't just drink it and hold my breath to get it down," Reiser says. "I really believed in the nuanced characteristics."
Today, Reiser is co-founder of Asheville, North Carolina's Burial Beer. It's celebrated for its amply hopped IPAs, coffee-infused stouts and saisons swarmed with wild yeast. They're wonderful beers, but Reiser often longed for light lager, the kind intertwined with his family and youth. So last summer Burial released Innertube, a lager built from a simple recipe of Canadian pilsner malt, rice, corn and a gentle touch of German hops. The beer squeaks in at 3.5 percent ABV, a flyweight that lands a flavorful haymaker. "It's not just like, 'Here's 3 percent alcohol in a can just so you can drink 20 and not get drunk.' No, this is a great-tasting beer," Reiser says.
Scroll through Instagram, peruse Twitter and tiptoe through Untappd, and you might assume that beer fans have blinders on for everything but IPAs and pastry stouts. Blow hype's smokescreen aside, however, and you'll see the light: Americans love low-ABV lagers. In January, sales data revealed that the country's best-selling beers are Bud Light, Coors Light and Miller Lite, the first time the top three were all light. With lower-calorie beers ruling the land, craft and independent brewers are making unlikely moves, especially as conglomerates increasingly encroach on their turf. "They're firing shots, so we'll fire shots back," says Night Shift co-founder Rob Burns.
The brewery, located near Boston, recently released Nite Lite, a competitively priced 120-calorie lager fit for consumers watching both waistline and wallet. It's a forward-thinking move for brewers staring down a dilemma: In a market swamped with choice and quality, how do you differentiate and draw new consumers into your billfold?
They're lacing up their shoes and playing in brewing's biggest playground, unveiling light lagers as well as flavorful ales that limbo below the 100-calorie pole, such as Kona's Kanaha Blonde Ale and Lakefront's green tea–infused Eazy Teazy—just 99 calories each!
Nonalcoholic beer is also a new arena, as breweries such as WellBeing and Bravus sell wheat beers and IPAs that appeal to alcohol-averse and athletes alike, a new audience for a new era of beer.
How Low Can You Go?
With beer, less (alcohol) means more (sales), canned light lagers stacked taller than an NBA center at grocery stores. Their appeal is consumptive ease coupled with moderate caloric load. Drink a six-pack and you'll neither be sloshed nor palate-fatigued, a selling point sweetened by a low sticker price.
America's largest breweries have long cornered this turf, a fact that rankled Night Shift. The brewery is lauded for hop-perfumed beers that dance up and down the ABV ladder, yet after spending days brewing and serving IPAs, employees craved more refreshing beers after clocking out. "Instead of buying Miller High Life, we thought, 'Why not try our hand at brewing a light lager?' At the end of the day, sometimes you just want something you can drink," says Night Shift's Burns.
Nite Lite, cut with corn and just 4.3 percent ABV, was first brewed in 2016 and quickly found a cult following, even if compliments felt somewhat backhanded. Online reviews proclaimed the beer to be "way better than Bud Light," says co-founder Michael Oxton. Could it compete against the category king? It was worth a run at the throne. "We came to the conclusion that there was room for new entries in the American light lager category," Burns says.
Releasing it would break one of craft brewing's sacred commandments. "There's a pretty hard line drawn between macro being equated with light beer and craft being equated with big, bold flavors," Oxton says.
This spring, Night Shift pushed into low-calorie terra incognita, releasing Nite Lite in party-ready 12-packs. The matte-black cans feature the brewery's owl logo done up in colorful pegs that nod to Lite-Brite toys. "We're really making sure that this will pop and stand out," Burns says. Moreover, the beer is Night Shift's first to feature a nutritional label, announcing just 120 calories per 12-ounce serving. "It's a low-calorie beer that's also flavorful," Oxton says. "We wanted it to be clear that it's not light by the name alone."
Night Shift is not the only independent brewery to offer a less-caloric lager. Yuengling Light, Sam Adams Light and Narragansett Light are widely available, but these beers celebrate what's missing—calories—rather than the flavor charge that craft consumers expect. That's why La Cumbre's simply named Beer, a crisp and filtered-clear lager brewed with corn, was such a revelation to Reiser. Here was a lager that didn't stint on taste, sparking him to tackle Innertube. "It was never inspired by market trends or forecasting where the marketplace was going," he says. "It was made for us, hoping we could continue to drive consumer interest in American lager."
Innertube, released with a float down a local river, didn't generate the same initial buzz accompanying Burial's double IPAs, but the success built steadily. "You'll see guys come in and buy a case of it when it's out, and it makes me really happy to see that."
Instead of lagers, other breweries are carving a different low-cal path. Dogfish Head has seen massive success with its tartly refreshing SeaQuench Ale, offering a belly-friendly 140 calories and nine carbs per 12-ounce serving. Omission's gluten-reduced Ultimate Light Golden Ale features five carbs and 99 calories, also the magic number for Kona's Kanaha Blonde Ale. (Kona and Omission are both part of the Craft Brew Alliance.) "It's kind of like you go to the store and you see $1.99 rather than $2," Billy Smith, Kona's head brewer, says of the number's placement on the label. "We're proud that we were able to hit a 99-calorie mark on such a well-balanced beer, so we wanted to highlight it on the label."
Kona's mango-tinged Kanaha is named after a Maui beach famed for windsurfing and kiteboarding, a favorite haunt for athletic types. "They've lived in the world of the Michelob- and PBR-type beers because they're easier drinking," Smith says. "We've made a beer that's not only low in calories and carbs, but it's also something flavorful. It's opening up a whole new market."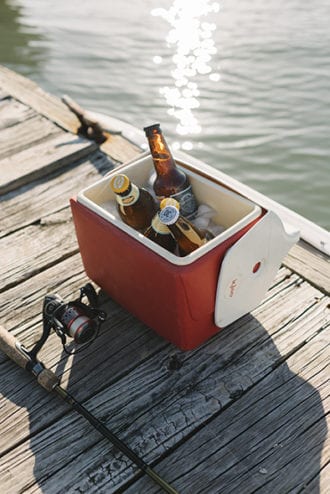 Milwaukee's Lakefront Brewery also decided to create a new kind of weight-conscious beer. "I don't believe that people who currently drink light beer do it because of flavor or cost," says founder and president Russ Klisch. "They're doing it because of low calories." Everyone gets older. Metabolism slows. Stomachs squish. "The craft-beer generation is aging, and they won't always want to drink the huge IPAs or big barley wines," he says.
This presented a unique opportunity for Klisch to innovate, with a key assist from his daughter, in her early 20s. "She looked at me and said, 'Daddy, why is it that you have to drink all these light beers that don't have any taste?' " he recalls. Klisch noticed that his daughter and her friends drank tea, and lots of it, a flavorful beverage lacking even a single calorie. Tea! Ding! Lakefront developed Eazy Teazy, infused with green and oolong teas and hopped with Lemondrop to evoke a citrus squeeze. The beer debuted in March with a 3.4 percent ABV and not-insignificant 99 calories. "People don't take it seriously unless it's under 100 calories," he says.
The Great American Zero
American-made zero-alcohol beer is largely seen in a negative light. It's for problem drinkers or pregnant women, right? Wing those misconceptions into a wood chipper. Breweries are fashioning alcohol-free IPAs, stouts and wheat beers, finding a thirsty market of athletes, baby boomers and others eager to explore a flavorful new universe. "If you drink alcohol, your choices are unlimited," says Jeff Stevens. "If you don't, they aren't."
Stevens quit drinking when he was 24, somewhat ironically spending several decades in beer-industry marketing. "I understood this market in the sense that there are not a lot of good NA beers," he says. To fix that, Stevens launched the St. Louis–based, NA-focused WellBeing Brewing earlier this year. He hired O'Fallon Brewery to contract-brew a dark amber ale and a Blue Moon–inspired wheat beer, the alcohol removed via vacuum distillation. It retains aroma and flavor, offering folks a taste of what they never knew they were missing. "I had no idea what a hop-forward anything was," Stevens says. "It's so much fun to try these styles."
WellBeing received an unexpected boost during the winter Olympics when news broke that German Olympians drink NA beer during training, using it as a nutrient-rich sports drink. "What I loved about the Olympics story is that it wasn't just the polyphenols that were good for you, it was the sociability of beer," Stevens says. "That's something you're never going to get in a sports drink."
Philip Brandes still drinks alcohol, but after a buddy went sober, the software developer challenged himself to brew a great alcohol-free IPA. "I'm really good at seeing a problem and working on it," he says. Brandes, who lives in Southern California, bought equipment and became obsessed. "My wife was like, 'Yeah, you're going to need to write this stuff off and start a brewery,' " he says, laughing.
He founded Bravus Brewing in June 2016 and started selling beer last year, his oatmeal stout, amber ale and Pliny the Elder–inspired IPA created via a proprietary process featuring specialized yeast and an app-controlled brewing system. He thought folks like his freshly sober friend would be the prime takers, but he soon tapped a fresh consumer vein. "The majority of our demographic are boomers or seniors. They want a healthier lifestyle or want to get into craft beer," he says.
His accounts buck the mold. On St. Patrick's Day, Brandes delivered two kegs of green-dyed IPA to a senior community. Moreover, Brandes can distribute his booze-free beer to places that lack liquor licenses, be it food trucks, delis or individual consumers in all 50 states. "I can sell in a lot of places that standard beer can't," he says. Bravus fast outgrew his first space, then a second, and now it rents space from larger breweries. "I can't make the stuff fast enough," he says, adding that people pre-order beer several months in advance. "It's almost like a can-release line for NA beer," he says. This has led Brandes to start planning a formal brewery and taproom. "It will be neat that people who don't drink can hang out and have a good craft beer," he says. "They're largely neglected."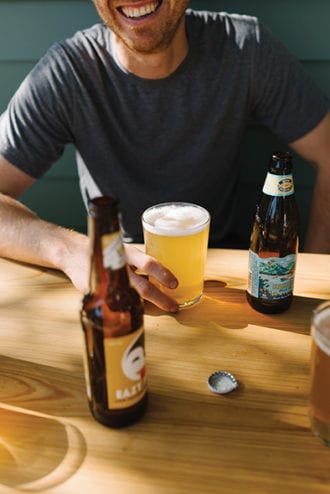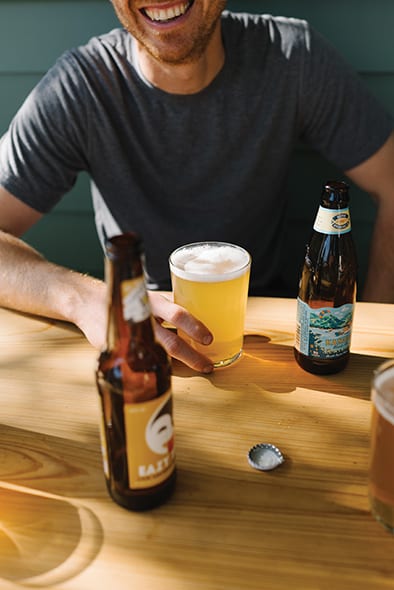 Craft brewers are starting to pay attention. Mikkeller makes an alcohol-free beer spiced with orange peel and coriander, while BrewDog does the well-hopped Nanny State. Sweden's Omnipollo is famed for its boozy imperial stouts and IPA, but it's boomeranging back to the opposite end of the booze spectrum. "We've been pushing the boundaries of higher alcohol for so many years, and this is just as radical, if not even more," co-founder and brewer Henok Fentie says of exploring alcohol-free beer.
He's dad to three young kids and sees the role that NA beer can play in his life. "When it's zero, it might be because I'm driving or I'm not keen going down that route that evening," he says. "Zero fits into consumer behavior because it has a purpose."
For Fentie, though, flavor is the ultimate arbiter: "I won't drink 10 zero-percent beers just because it has less alcohol." He's currently brewing test batches of NA beer, though it'll likely be more than a year before anything is released. The beer can't just be booze-free; it must be as delicious as Omnipollo's porter that's reminiscent of rocky road ice cream.
"Nonalcoholic beer must be a viable alternative in terms of flavor," he says. "Otherwise you can drink something else that's really tasty, like ginseng tea."
Selling Point
Appealing to health- and weight-conscious consumers may seem odd in an industry abuzz with triple IPAs that rival cheeseburgers for caloric heft. But both craft breweries and their consumer base are maturing, and the battle of the bulge involves all.
In early 2015, Hopworks Urban Brewery released Nonstop Hef Hop, a wheat beer designed for drinkers with sporty lifestyles. "As an active dude who counts calories and drinks beer as a reward, I knew there was a big opportunity for a flavorful, hoppy, low-calorie beer," says founder Christian Ettinger, an avid cyclist. The beer bombed. "Our distributor didn't really know what to do with that beer," he says. Maybe it was the wrong name or style, or maybe Hopworks was merely ahead of the curve. "I went after something I was passionate about and probably didn't look at the market," he laments.
Take Innertube. Burial is a sizable brewery by North Carolina standards, but it's no national behemoth harnessing the economies of scale. Innertube is the cheapest beer in Burial's portfolio, sold for $8.99 a six-pack—and solely at the taproom. "For us, to make a beer at our overhead and volumes, I've got to make a decent margin or I'm just losing on the beer," Reiser says.
In wider distribution, Innertube might cost three or four bucks more. Would you buy a $12 six-pack of light lager? There's a particular price-sensitivity for this style, so much so that lagers often cost less than bottled water. No one wins in a race to the bottom, but craft brewers are trying to see how low they can go and still stay afloat. New Orleans' Urban South sells its Paradise Park for $6.99 a six-pack. Founders' freshly released Solid Gold, a no-nonsense lager, retails for $18.99 for 24 beers—80 cents a can. Night Shift's Nite Lite goes for $12 for a 12-pack of 12-ounce cans. "We're on the pricier end of lights beers but on the far cheaper end of craft beer," Oxton says.
Burns admits that a price war would be a losing battle. "We can't match Bud Light and High Life pricing, but I think there are a lot of consumers that are in the middle ground and will pay more for that style."
It's certainly a gamble, but what's the alternative? Releasing yet another double IPA? Uniting moderate cost with massive flavor and minimum calories turns commodity lager into a local product, a new species sprouting in a homogenous forest. "Craft was in so much opposition to macro beer that we walled off the biggest pieces of the pie and let them control it," Burns says. "We said, 'We'll play in this other sandbox.' This confuses and baffles me. Why would we give them the biggest sandbox?"
---
Like what you see? Get more of the best of liquid culture when you sign up for our bi-monthly magazine. Subscribe now and save up to 59%—it's just $21.95 for one year or $32.95 for two years. Click here for details.