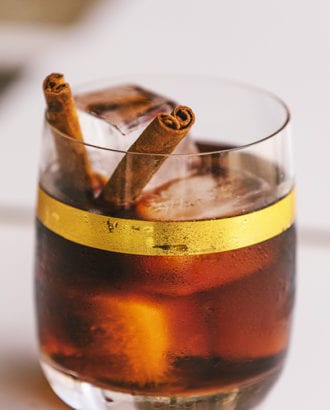 Former Chicago bartender Annemarie Sagoi spent some time shaking up the drinks scene in Cambodia back in 2016, via bold mixes like this bourbon cocktail.
1½ oz. bourbon
½ oz. Averna
¼ oz. cold-brew coffee
1 tsp. honey syrup (1:1)
3 dashes Angostura bitters
Orange peel
Tools: mixing glass, barspoon, strainer
Glass: Old Fashioned
Garnish: cinnamon stick
Stir all the ingredients with ice in a mixing glass. Strain into an Old Fashioned glass filled with a large ice cube. Twist an orange peel over the drink and discard; garnish.
Annemarie Sagoi, Le Boutier, Phnom Penh, Cambodia