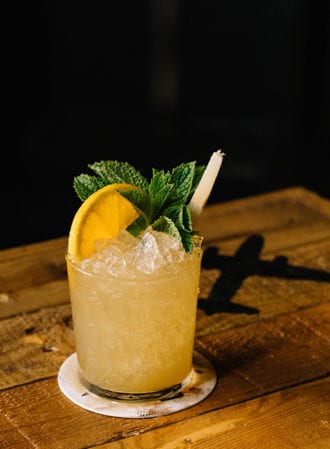 In the house Mai Tai at Last Rites in San Francisco, a cashew orgeat brings an extra-creamy nuttiness to the drink.
1 oz. Martinique rhum
1 oz. Jamaican rum
¾ oz. fresh lime juice
½ oz. dry curaçao
½ oz. toasted cashew orgeat
Tools: shaker
Glass: double Old Fashioned
Garnish: orange wheel, mint sprig and fresh sugarcane stick
Shake all of the ingredients together in a shaker with a scoop of cubed ice and a scoop of crushed ice. Pour the contents into a double Old Fashioned glass and garnish.
Toasted Cashew Orgeat: Toast ¼ lb. of cashews until golden brown. Chop the nuts, then add them to 1 cup of simple syrup (1:1). Let the mixture steep overnight and strain out the nuts out before using. Store in the refrigerator for up to 2 weeks.
Susan Eggett, Last Rites, San Francisco
---
Did you enjoy this recipe? Sign up for our newsletter and get weekly recipes and articles in your inbox.