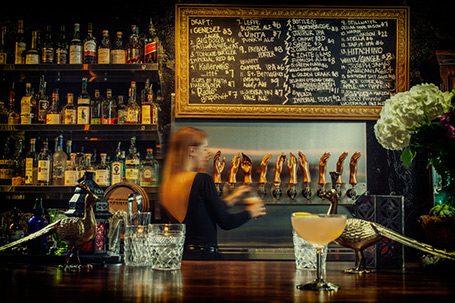 Wayne Curtis explores the early days of Vegas cocktails in our July/August 2014 issue, back when when Sinatra was a near-nightly fixture at the Sands and bars like the campy, desert-chic Nugget Nell kept tourists well hydrated between turns at the Black Jack table. But the Vegas of today is not to be underestimated. Vegas offers a mix of old-school spots and new kids on the block. Here's what our perfect Vegas bar crawl looks like.
365 Tokyo
This eight-seat, mostly members-only bar opened quietly this past April. Though the lead barman, Seong Ha Lee, hails from Soeul, South Korea, the bar is heavily influenced by Japan both in its exacting and gracious service style and in the precisely poured cocktails. Expect all the bells and whistles, from wood-smoked cocktails to hand-chipped ice and even a little help from liquid nitrogen. Nabbing one of those eight bar seats might be a tall order, but it will be well worth the work.
The Velveteen Rabbit (pictured)
Sisters Pamela and Christina Dylag opened this lusciously decked-out bar in May of 2013 and have been slinging inventive, seasonally-inspired cocktails ever since. Rehydrate your desert-parched self with a big icy highball of their housemade lemongrass-coconut soda, spiked with either gin or tequila. Or veer towards the savory side, with the "Pickle Got Back", a take-no-prisoners smash up of whiskey, lemon juice, spicy mustard syrup, pickle juice and ginger beer.
Commonwealth
At the heart of Las Vegas' burgeoning downtown scene is Commonwealth, a dark and lavish cocktail den in the midst of a bar of Vegas that was until recently a run-down afterthought. Sip a White-Russian-ish The Dude Abides under the glow of the extravagant chandeliers or outside on the bars' rooftop patio, one of the best in town. If you're looking for a more intimate experience, call ahead and reserve a spot at The Laundry Room, the tiny, Prohibition-esque "speakeasy" hidden inside Commonwealth.
The Griffin
Mere steps from Commonwealth is The Griffin, a low-lit bar dominated by the two large fireplaces that bath the room with coziness year round, giving it a welcoming, gentle perma-glow. The much-buzzed about jukebox is loaded with Pitchfork-approved tunes and drinks are ordered sans menu, so channel the Rat Pack—easy enough to do here in Sin City—and have yourself a bone dry martini.
Herbs & Rye
Calling to mind the Vegas steakhouses of yore, with its deep maroon walls and classic caesar salad-and-steak menu, Herbs & Rye has quietly become one of present-day Las Vegas's hidden gems. Owner Nectaly Mendoza takes drinks seriously and has whipped up a menu to be reckoned with. Slice through the richness of H&R's unabashedly old-school food with a tart, crisp Frisco or a frosty, spicy Moscow Mule.