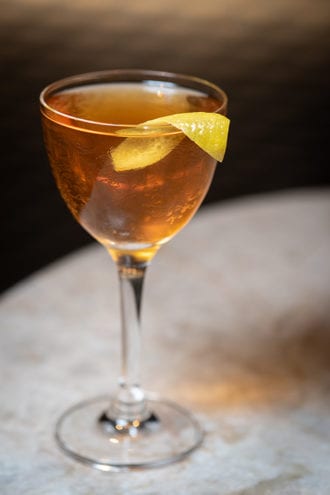 An elegant contrast of bitter Cynar and floral St. Germain defines this gin cocktail from Bambara in Cambridge.
1½ oz. gin
½ oz. St. Germain
½ oz. Cynar
½ oz. grapefruit syrup
Tools: mixing glass, barspoon, strainer
Glass: Nick & Nora
Garnish: lemon swath
Combine all of the ingredients in a mixing glass with ice. Stir to chill, strain into a chilled glass, then garnish.
Grapefruit Syrup: Peel 1 grapefruit, making sure to avoid the pith as much as possible. Combine the peels with 1 cup of sugar and let sit overnight. Combine the syrup with 1 cup of hot water and ½ cup of fresh grapefruit juice. Stir to dissolve the sugar. Strain out the peels. Let cool before use.
Alex Weigand, Bambara, Cambridge, Massachusetts 
---
Did you enjoy this recipe? Sign up for our newsletter and get weekly recipes and articles in your inbox.