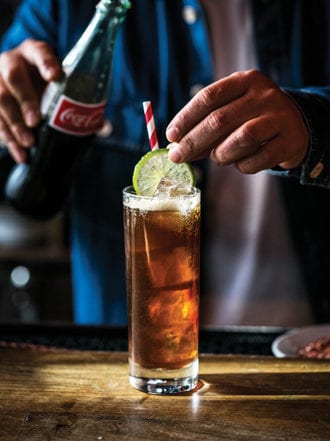 First created at a bar called La Capilla in the town of Tequila by Don Javier Delgado Corona in the 1960s, the Batanga is a favorite among fans of agave spirits. Usually a simple mix of tequila, lime and cola, at Ghost Donkey (our 2020 Cocktail Bar of the Year) Ignacio "Nacho" Jimenez adds Mexican Fernet for an extra layer of bittersweetness. You can experiment with whatever Fernet you have on hand, but Jimenez says Fernet-Vallet will bring a deeper bark-like dryness to the mix.
1½ oz. tequila blanco
¼ oz. Fernet-Vallet
½ oz. fresh lime juice
Cola, to top
Tools: barspoon
Glass: highball
Garnish: citrus salt
Combine all of the ingredients in a highball glass with ice. Stir to combine.
Ignacio "Nacho" Jimenez, Ghost Donkey, New York City
---
Did you enjoy this article? Get more of the best of liquid culture when you sign up for a print or digital subscription to Imbibe Magazine. Click here for special savings!