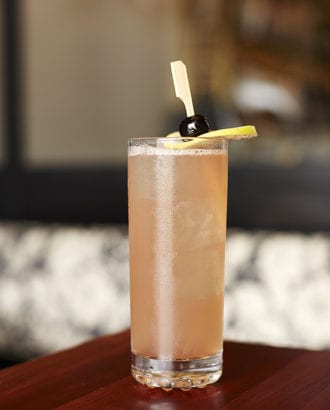 At Kettle Black in LA's Silverlake neighborhood, the drink menu is organized by base spirit. In their Tequila Cocktail, bittersweet quina complements earthy tequila.
1 ½ oz. reposado tequila
½ oz. Maurin Quina Le Puy
¼ oz. demerara syrup (1:1)
1 oz. fresh lemon juice
1 oz. tonic water
Tools: shaker, strainer
Glass: highball or collins
Garnish: lemon slice and maraschino cherry
Combine the tequila, quina, syrup and lemon in a shaker with ice and shake to chill. Strain into a glass over fresh ice. Top with tonic water and garnish.
Jordan Young, Kettle Black, Los Angeles
---
Did you enjoy this recipe? Sign up for our newsletter and get our favorite drink recipes of the moment in your inbox every month.