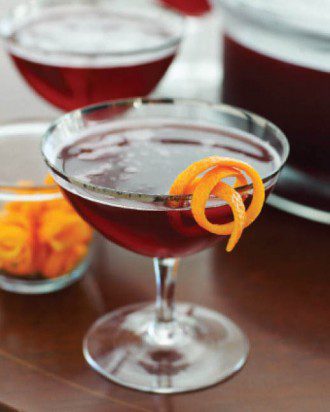 This punch from bartender Kyle Higgins gets a strong fruity backbone from Southern Belle shiraz, a robust Australian wine aged in used Pappy Van Winkle whiskey barrels.
8 cups Southern Belle Shiraz, or other bold, spicy red wine
2 cups rye whiskey
2 cups brandy
1 cup sweet vermouth
½ cup Carpano Antica
1 lb. granulated sugar
2 cups Moscato d'Asti
8 cups sparkling water
Ice block (use a Bundt cake or loaf pan)
Tools: large bowl, large spoon
Glass: punch
Garnish: orange twists
Combine the shiraz, rye, brandy, vermouth and Carpano in a pitcher. Slowly stir in the sugar until dissolved. Refrigerate for several hours until cold. When ready to serve, place ice block in punch bowl and pour chilled mixture over. Top with moscato and soda water and serve. Garnish each serving with an orange twist.
Makes approximately 50 servings.
Kyle Higgins, Louisville, Kentucky