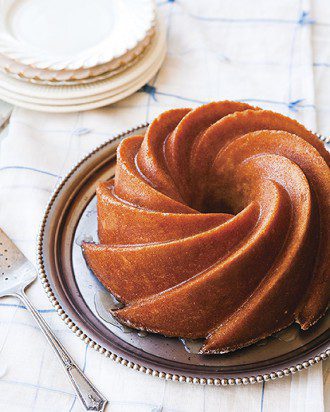 Bourbon and buttermilk help flavor this equally delicious and beautiful Bundt cake from Julie Richardson's book, Vintage Cakes. Try using a well-rounded bourbon like Buffalo Trace—it will meld perfectly with the butter and brown sugar flavors in the cake.
For the Cake
3 cups sifted cake flour
1 tsp. baking powder
½ tsp. baking soda
1 tsp. fine sea salt
1 cup unsalted butter
1½ cups sugar
½ cup firmly packed brown sugar
4 eggs, at room temperature
¼ cup bourbon
1 cup buttermilk, at room temperature
For the Glaze
6 Tbsp. unsalted butter
¾ cup sugar
¼ cup bourbon
Center an oven rack and preheat the oven to 350 degrees F. To make the cake, sift together the flour, baking powder, soda and salt in a bowl, then whisk the mixture by hand to ensure that the ingredients are well mixed.
In the bowl of a stand mixer fitted with the paddle attachment, cream the butter and sugars together on medium-high speed until fluffy, about 5 minutes. As you make the batter, stop the mixture frequently and scrape the paddle and the sides of the bowl with a rubber spatula. Blend in the eggs one at a time. Combine the bourbon and buttermilk in a small bowl. With the mixer on low speed, add the flour mixture in three parts, alternating with the buttermilk-bourbon mixture in two parts, beginning and ending with the flour. After each addition, mix until just barely blended and stop and scrape down the bowl. Stop the mixture before the last of the flour has been incorporated and complete the blending by hand with a rubber spatula.
Pour the batter into the prepared pan and spread it out evenly. Place the pan in the oven and bake until the cake is golden and springs back when touched, 40 to 45 minutes.
Make the glaze by combining the butter, sugar and bourbon in a small saucepan over low heat just until the butter melts and the sugar dissolves, whisking to combine.
Remove the cake from the oven but leave it in the pan. Pour holes all over the top of the cake with a wooden skewer. Pour three-quarters of the glaze slowly over the cake, reserving the remaining glaze. Allow the cake to cool for 30 minutes, then flip it out onto a serving plate so the glazed part is on the bottom. Brush the top with the remaining glaze. If the glaze has thickened, re-warm it over low heat.
Reprinted with permission from Vintage Cakes: Timeless Recipes for Cupcakes, Flips, Rolls, Layer, Angel, Bundt, Chiffon, and Icebox Cakes for Today's Sweet Tooth by Julie Richardson, copyright © 2012. Published by Ten Speed Press, a division of Random House, Inc.