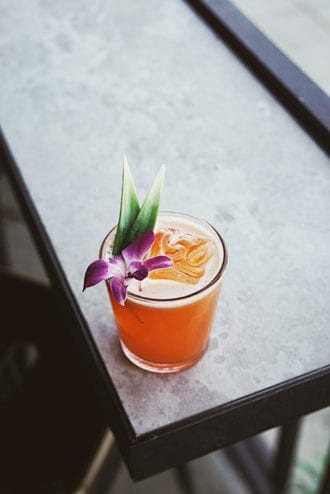 San Diego bartender Stephen Kurpinsky has multiple Jungle Bird riffs in his repertoire, and this Kentucky Bird gives the cocktail a decidedly Southern spin. "A wheated bourbon, such as Maker's Mark, really helps sell the marriage of tropical flavors." He boosts the richness with a simple oleo saccharum.
1½ oz. bourbon
¾ oz. Campari
1½ oz. pineapple juice
1 oz. fresh lemon juice
½ oz. passion fruit syrup
¼ oz. oleo saccharum
2 drops saline
Tools: shaker, strainer
Glass: Double Old Fashioned
Garnish: pineapple fronds and an orchid
Add all of the ingredients to a mixing tin, shake with ice, then fine strain into a double Old Fashioned glass filled with a large ice cube. Garnish.
Oleo Saccharum: Combine the peeled zest from 5-6 lemons in a bowl with 1 cup of sugar; mix well and let the mixture sit covered overnight, then strain out the liquid for use.
Passion Fruit Syrup: Combine 2 parts passion fruit purée and 1 part simple syrup. Shake to combine. Store in the refrigerator when not in use.
Stephen Kurpinsky, San Diego 
---
Did you enjoy this recipe? Sign up for our newsletter and get weekly recipes and articles in your inbox.