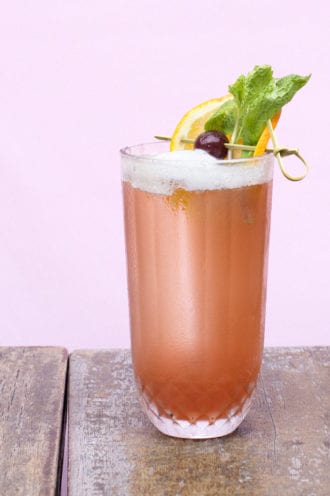 At Jigger & Pony, a cocktail bar in the Amara Singapore hotel, their Singapore Sling riff remains light and refreshing, with a few playful twists. Click here for other variations on the cocktail.
1½ oz. pineapple and lapsang souchong-infused gin
½ oz. Cherry Heering
½ oz. fresh lime juice
¾ oz. rhubarb purée
Soda water
Tools: shaker, strainer
Glass: highball
Garnish: cherry, orange slice and mint sprig
In a shaker with ice, add all the ingredients except the soda water. Shake vigorously, then strain into an ice-filled glass, top with soda and stir. Garnish.
Pineapple and Lapsang Souchong-Infused Gin: Combine a peeled and chopped pineapple (about 3 cups) and ¾ of a gram of lapsang souchong tea with one 750 ml. bottle of London dry gin in a sealable container. Infuse in the fridge for 24 hours, then strain and bottle for use within 2 weeks.
Rhubarb Purée: Wash and chop about 2 pounds of rhubarb stalks, then bake them on a sheet pan at 150 degrees F (or your oven's lowest setting) for about an hour, or until tender. Juice the cooked rhubarb, or blend and strain it through cheesecloth, to yield about 7 ounces. In a saucepan, combine the juice with an equal amount of white sugar over medium heat and whisk until the sugar has dissolved, then cool and bottle for use within 1 week.
Giovanni Graziadei, Jigger & Pony, Singapore
---
Did you enjoy this recipe? Sign up for our newsletter and get our favorite drink recipes of the moment in your inbox every month.