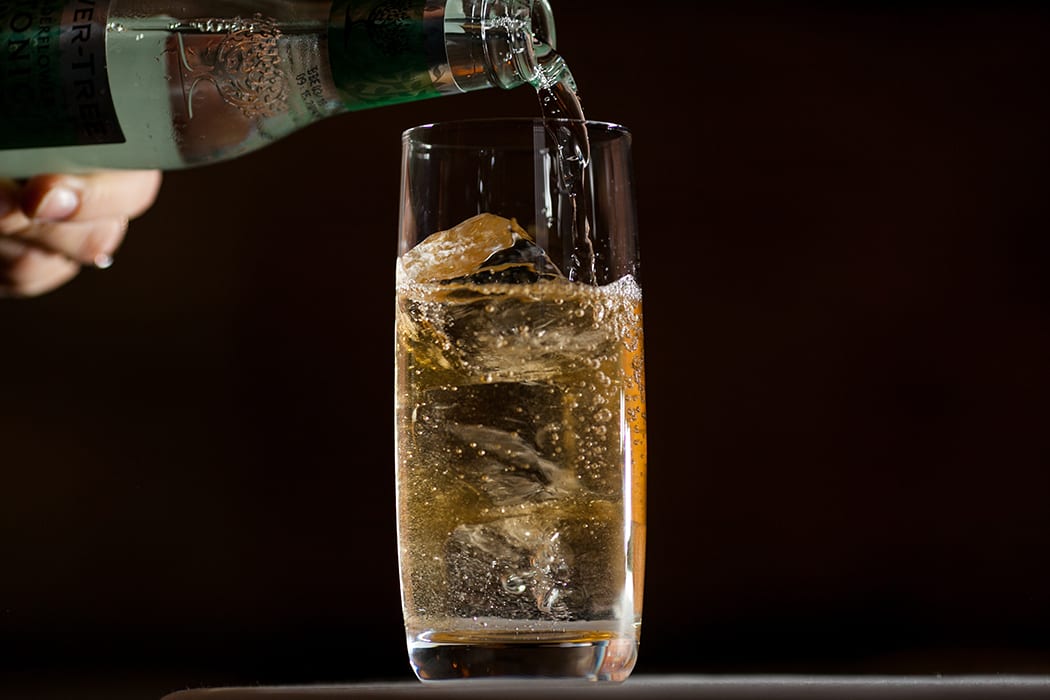 With just two ingredients—whisky and sparkling water—the Japanese highball seems like an almost effortless drink to make. Yet, despite its simplicity, it's surprisingly easy to miss the mark. To get it right every time, many bars employ a Toki highball machine, which dispenses a perfectly calibrated ratio of chilled soda to chilled whisky at a high carbonation level. But this technology doesn't help home bartenders who want to achieve the same results outside of the bar. So we checked in with some of the bar world's most avid whisky highballers to get tips on everything from choosing the right whisky to mixing the drink just right.
The Whisky
Most bartenders will tell you that a perfect whisky highball balances minerality and sweetness with a crisp, clean structure. Thanks in part to the popularity of Suntory's highball machines, Toki is the go-to whisky for most bars in America, including places like Momofuku Noodle Bar and Sushi Ginza Onodera in New York City and Tamari Bar in Seattle. Jermaine Whitehead of Deep Dive (also in Seattle) is also a fan of Toki because the unaged, lightly malted blend was designed for mixing in cocktails and pairing with soda. "Flavors of vanilla, coconut, citrus, honey and grain in the whiskey wake up with the addition of soda water," he says.
Toki is also used in the highballs at Bar Jackalope in Los Angeles, but before allocation issues came into play, Andrew Abrahamson opted for Hakushu 12 single malt. "It's light on the wood influences, creating a lighter malt that lends itself to a more refreshing highball," says the director of single spirit bars for 213 Hospitality, the parent company for Bar Jackalope and Seven Grand. "Depth and complexity are not sacrificed—it maintains as a whisky-centric experience to the last drop." You can still find Hakushu in liquors stores, but if you're interested in trying the combo at home, the time to buy bottles is now, he adds, as Suntory has plans to discontinue production.
Julia Momose, owner of the forthcoming Chicago bar Kumiko, likes trying a new Japanese whiskey with every highball session to explore the nuances of each. A few of her favorites are Nikka Coffey Malt, for its "tropical fruit notes carrying along with dark red fruits and vanilla drizzled in caramel," and Mars Shinshu Iwai Tradition. "A blend of malt and grain, this whisky is aged in bourbon, sherry, and wine barrels. It's full-bodied, with everything I love about whisky that has spent time in sherry casks. It has a nice rich character of caramel and honey and plays very well when mixed in a highball."
The Bubbly
With subtle variations in minerality and levels of carbonation, different sodas or sparkling mineral waters will lend different personality to the final drink, so experiment to find your favorite. "I enjoy a variety of different styles of highball: chilled mineral water, sparkling water and club soda," says Momose. "Club soda is great for that subtle hint of salt; some that I like and will pair with different whiskies: Fever-Tree Club Soda and Q Club Soda. As for sparkling mineral water Gerolsteiner Sparkling Mineral Water is lovely—there's a great mouthwatering bitterness to it along with a bold effervescence, which plays nicely with some sweeter whiskies."
As Momose mentions, Q is popular with many bartenders—both Abrahamson and Whitehead recommend Q club soda for its brightness, and while Kevin Diedrich at Pacific Cocktail Haven uses a Toki machine at the bar, when mixing on-the-fly or at home, he reaches for Q because it "has the best bubble out there," he says. Whitehead also recommends Topo Chico because of its unique minerality and vibrant carbonation.
The Glassware
Like the Old Fashioned or Martini, the highball cocktail has its own namesake glass, but with Japanese highballs there are a few options to choose from. Two things to consider: the the ratio of whiskey to soda, and the preferred style and tactile experience.
At Bar Jackalope, Abrahamson uses fluted Collins glasses or glasses with a small surface area, so there's less opportunity for the soda bubbles to pop into the air. The fluted glassware also offers a more elegant experience. "At Jackelope we stick to the fluted highball because it's a little more of a sit-down place. Seven Grand is more of a bar bar, so we do steins there." The steins Abrahamson mentions are, as they sound, vessels that resemble German beer steins. Made and distributed by the Suntory company, the glasses are a modern take on the traditional European-style stein—lightweight and made of glass so they still chill easily. The style, which is becoming more popular in American bars (places like Momotaro in Chicago, Katana Kitten and Ippudo in San Francisco have all adopted the glasses), has roots that lead back to Japan. "What I was told when we were is that [Suntory] originally marketed the highball for somebody who thinks beer is too bitter and cocktails are too sweet," says Abrahamson. "That was the campaign; they were marketing highballs for beer drinkers and so they used a stein."
Momose's favorite glass for a highball is the usuhari highball glass by Japanese glassmaker Kimura. "This glass is so thin, it's like there's nothing between you and the bubbling drink." On the flip side, she cautions against big, thick glasses that don't chill well (or, "even worse, are still hot from the dishwasher"). A rule of thumb is that the thicker the glass, the longer it will take to get cold. "For home, work out the ratio that you love and find a glass that will allow that ratio to be met time and time again."
The Temperature
The best Japanese Whisky Highballs are bracingly cold. "I follow the strict ritual the Japanese do when they build their highballs, which is to use a large lump of ice and a really cold glass," says Whitehead. "The cold glass is really important because it's one way to keep things cold before you even add the ice to the glass."
Keeping your soda water refrigerated might seem obvious, but Abrahamson reiterates how important this can be. "Carbonation is more about temperature than it is about the actual gas, because it has a lower boiling point. You have to get the soda really cold to take on the C02, so serve it as cold as you can get it."
At Bar Goto in New York City, whisky is stored in a cooler, because that's one more way to ensure the drink starts off as cold as possible. And, of course, the ice you choose will also make a big difference. Many bars use ice made from a Clinebell, because the ice comes out perfectly clear without bubbles or impurities in the block. Plus, cutting large cubes or spears from a massive block of ice allows for total control over the surface area and dilution rate. At home, however, use quality ice that's going to dilute slowly and steadily, like one large spear or just a few square cubes. "My not-so-technologically advanced method at home is I take a big stainless steel bowl and fill it with water—I always have one in the freezer," says Abrahamson. "The top two to three inches is usually cloudy, but the bottom is always crystal clear. Chip away at that and make some random diamond looking cubes and drop two or three of those in your glass and you're good to go."
If you want to take the ice a step further, consider the water you're using, too. "The water that's used in the highball is vitally important to the overall drink, and so is the water that's used for the ice," says Momose. "Ice will melt and, in time, alter the flavor of the drink. If it's tap water, this can negatively impact the flavor. If you can, purchase ice from a reputable source, or make your own with mineral water. If you're making a still highball, it would be a great touch to use the same water you're mixing with to make your ice. "
The Technique
A little technique goes a long way towards making the perfect highball. The first thing to sort out is the ratio of whisky to water. "For most whiskies we do 4:1 water to whisky. Occasionally 3:1," say Abrahamson, adding that the strength and style of the whisky will be the determining factor between the two. "Ultimately, what you don't want is for it to taste like a watered down whisky, and it happens all too often where the water isn't carbonated enough and the ratio is off. Then it's like a big glass of watery whisky." At Momotaro, wine supervisor DeAnn Wong gets more specific. "Go easy on the spirit, like 1¼ oz. of whisky. That way the drink is sippable and the whisky isn't overwhelming."
To assemble, put the ice in a pre-chilled glass and stir to create a softer structure in the ice cubes. "All those sharp edges are going to cut into the C02, so if you can get a softer edge on the ice it'll be better when you put the soda in," says Abrahamson. Stir for about 15 rotations, he says, then discard any melted water before pouring in the whiskey. Then stir for another 15 rotations and pour in the soda water about ¾ of the way to the top. "You don't want the soda to hit the ice too hard, so you fold it into the side of the glass so it gently pours down the side of the glass," Abrahamson says. Whitehead agrees, saying he uses a barspoon with rivets in the neck to help guide the soda down into the glass, like many Spanish bartenders do with Spanish-style Gin Tonics. Lift the ice up gently with the spoon and pour the soda down the rivets, trying to aim the liquid to land below the ice. "What I'm trying to do is get the mineral water at the very bottom of the glass and have it rise up through the whiskey and ice to fill the glass," Whitehead says this allows for the whisky and water to combine while chilling the entire drink evenly and preventing too many bubbles from dissipating in the process. "When you remove the spoon, try not to mess up the bubbles."
The Garnish
To finish the drink, choose a garnish that will work well with the whisky. "Depending on the whisky, we may garnish our highballs at Kumiko, but in general, I don't like to add any garnish to such a delicate drink," says Momose, adding that she does make the occasional exception. "When I enjoy Hakushu 12-year highballs, I love a little spig of mint, or a green apple fan. I find that citrus peels can be too overpowering."
A sprig of mint on top of a Hakushu highball is also how Abrahamson enjoys the drink. "It's fairly common in Japan—they call it the forest fragrance highball. It's really beautiful, so that's our go-to. If we're going with the Toki, we find that an orange twist brings out too much sweetness in the whiskey, so we like lemon or grapefruit because the garnish needs a little brightness and acid."
The garnish changes seasonally at Momotaro, "It was sage and tangerine peel over the summer, and now we're doing grapefruit as we're moving into citrus season," says Wong. "It's about picking garnishes that will accentuate the lightweight quality and floral honeysuckle notes of the Toki. You don't want anything thats going to mask the drink, both aesthetically or in the flavor, and it should be a compliment to the easy-drinking nature of the cocktail. We've done lemon too, because I think citrus works best in the highball."
---
Did you enjoy this article? Get more of the best of liquid culture when you sign up for a print or digital subscription to Imbibe Magazine. Click here for special savings!