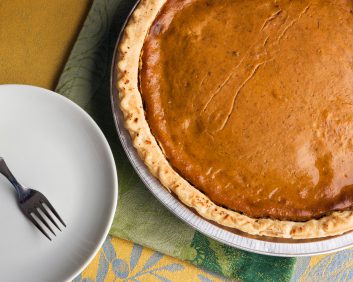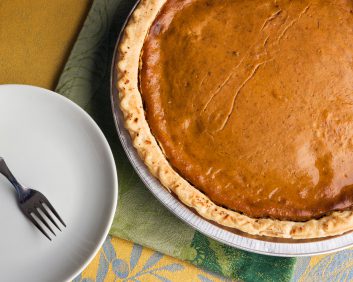 This rum-spiked pie has a complex, grown-up flavor that's a welcome change from traditional pumpkin pie. Serve it with spiced or rum-spiked whipped cream to enhance the flavors in the pie.
1 9-inch pie shell (at least 2-inches deep)
½ cup spiced Jamaican rum
1 ½ cups pureed roasted pumpkin, or 1 (15-oz) can unsweetened pumpkin puree
¼ cup granulated sugar
½ cup packed light brown sugar
3 large egg yolks
1 cup whipping cream
¼ tsp. kosher salt
½ tsp. ground nutmeg
¼ tsp. ground cloves
1 ¼ tsp. ground cinnamon
2 tsp. freshly grated ginger
Preheat oven to 400 degrees F. Line pie shell with parchment paper or foil and fill with 2 to 3 cups dried beans or pie weights. Bake for 12 minutes, carefully remove foil and pie weights and prick the bottom of the crust with a fork. Bake for another 7 to 10 minutes, or until crust begins to turn lightly golden.
While crust is baking, place the rum in a small saucepan and set over high heat. Boil until reduced to 1/4 cup.
In a large bowl, whisk together the pumpkin, both sugars, egg yolks, cream, salt, spices, fresh ginger and reduced rum. Pour mixture into the hot pie shell, reduce heat to 350 degrees F, and bake for 50 to 60 minutes, or until the tip of a knife inserted near the center comes out clean. If the edges of the crust are getting too dark cover them with strips of foil. Cool to room temperature or chill before serving.
Serves 8.
Amy Zavatto and Danielle Centoni