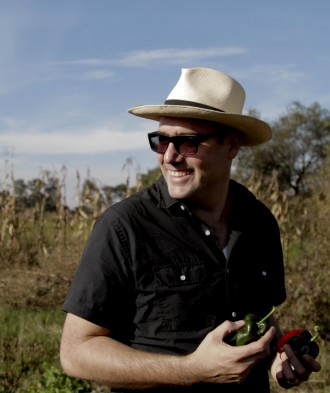 Iván Saldaña Oyarzábal has shifted careers many times in his search for work fullfillment. Driven by his passion for science and interest in plants, he moved to London to earn a PhD in biochemistry and physiology. Oyarzábal became intrigued by how plants react to their environment and the important impact this has on how they smell and taste. At the same time, he realized it would be fascinating to create products based on his research and discoveries, which led him to his current role as a co-founder of Ancho Reyes and Montelobos. Oyarzábal recently spent time talking with Joshua Harris of The Bon Vivants (and Pig & Punch) about his involvement with Ancho Reyes and his favorite aspects of his job.
Josh Harris: Can you describe your job title and role?
Iván Saldaña Oyarzábal: I play different roles within the company. As a partner, my main contribution is to make the liquids perfect in everything we do. In the case of Ancho, the exercise was really to make a wonderful liqueur, based on the traditions that exist in that region of Mexico—Hidalgo, Puebla, Veracruz—three states with a very strong tradition. Of course, based on the Ancho chile, which is the main ingredient.
JH: So is it correct to say that you're the creator of Montelobos and co-creator of Ancho Reyes?
ISO: I would say that, yes. I think that making Ancho Reyes was a very strong collaborative work, with you and Scott [Baird]. We didn't really have a reference, something that we could say, "This is what a liqueur from the 1920's is or should be." So we had to rely on collaboration to define the particular thing we wanted to present and sell to the people.
JH: Can you sum up the things you love most about your work?
ISO: The diversity. I love that one day I'm sharing my love for the information I have gathered through my time in this industry, and then the next day I may be in the lab distilling something new. The next day I'm probably working to solve an issue around how we're going to get money for a particular project. It's one of the things I love about being involved with entrepreneurial activity—not being part of a large company but at the same time getting to work with a large variety of people.
JH: Ancho Reyes is one of our beloved Pig & Punch partners. What do you think makes it special?
ISO: I think Ancho Reyes is extraordinary because it is capable of transmitting, in the purest form, what chiles are. It's one of the most important spices that exist in the world. For a long time it was considered to be a local thing, but now it's clear that it is absolutely a global element. It's a universal element that transcends any geography. In other words, Ancho Reyes is special because chiles are special.
JH: What do you believe is synergistic between Ancho Reyes and Pig & Punch?
ISO: For us it has been a great opportunity to do something that we take very seriously, which is social responsibility. It's a wonderful way to celebrate the effort that bartenders are making and the consciousness that is being created around the idea that the drink is not the most important thing in the world.
JH: When you're at home, or when you're at a bar in Mexico, how do you drink Ancho Reyes?
ISO: Ivan's Ancho Soda: ice, Ancho Reyes, a splash of soda water and a lime garnish
JH: The line between work and play can often get blurry in the spirits business, particularly for outsiders looking in. When you're able to truly detach from work, how do you like to spend your down time?
ISO: One of my biggest passions is dancing. I have two very young children, so on a Saturday morning I love to just play my music and dance with my children. It charges me with a lot of energy. And of course there are other hobbies. I love to eat, and travel is something that I really love and share with others.
JH: You mentioned travel and eating being big hobbies of yours, and those are both things we get to do a lot of in positions like ours. If you could recommend one not-to-be-missed travel destination, where would it be?
ISO: I think Lebanon. That place is really magical. The food is extraordinary, the way people treat each other is great. I'm a Latin American person, and I really feel that there's a piece of our soul also in that part of the world. Lebanon, Beirut in particular, is a super-cool place to go to move, to talk, to relate to people.
JH: When it comes to food, what's been your favorite fine-dining experience?
ISO: I was a student at the time and I went to Charlie Trotter's in Chicago. It doesn't exist anymore, but for me it was an incredible experience. They served food that was cooked for hours, things that were not my typical everyday meal. It left a big mark on me.
JH: And on the flip side of that, what's your go-to street-food spot?
ISO: If I'm talking street food, which is even more difficult being a Mexican surrounded with an incredible number of options, barbacoa is probably my favorite thing. A place to get to-die-for barbacoa is a small restaurant in La Roma, Mexico City.
JH: How do you find it?
ISO: It's on Campeche Street. It's a really simple place. They're not open during the week, only on the weekends. You can only pay with cash. The food is absolutely crazy.
JH: And before you can go, I have some rapid-fire questions for you.
JH: Dogs or cats?
ISO: Cats, for sure.
JH: Early bird or night owl?
ISO: Early bird.
JH: Coffee or tea?
ISO: Neither.
JH: Football or Fútbol?
ISO: Fútbol.
JH: Beach or mountains?
ISO: Beach.
JH: Forks, chopsticks or fingers?
ISO: Fingers.
JH: Movies, books or TV?
ISO: Books.
JH: Tasting menu or a la carte?
ISO: Tasting menu.