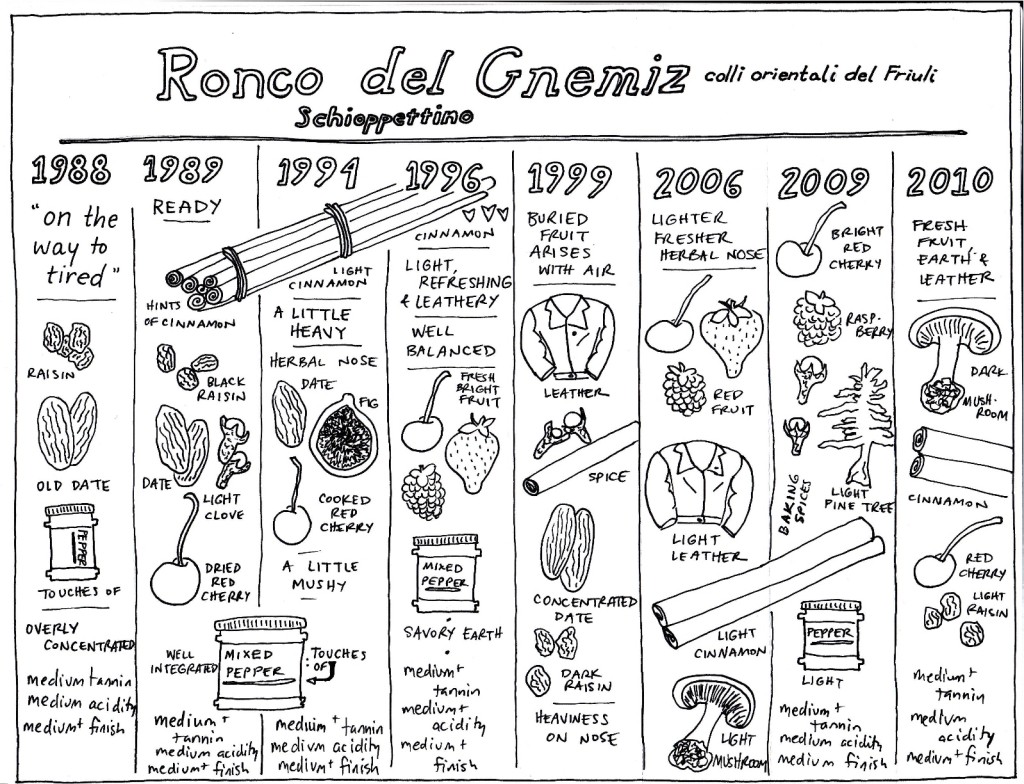 The wine reviews and illustrations that Elaine Chukan Brown shares on her website Hawk Wakawaka Wine Reviews perfectly reflect this particular moment in the life of wine in America. Her style is geeky enough for the most obsessive wine enthusiast but it's cloked in a distinct accessibility. As one of our Imbibe 75 People to Watch in 2014, we checked in with Chukan Brown to find out which wines that she's excited about these days.
Imbibe: Do you remember the first bottle you ever loved?
Elaine Chukan Brown: The first wine I truly loved was an Eyrie Pinot Meunier. The metallic spine zinging through lightly feral and herbal fruit blew me away. I had to know more. Then someone told me the Eyrie story—how David Lett moved North, planted in Willamette before it even grew wine, met his wife and started a family—and I was hooked. It made me realize how heritage combines with agriculture and creative expression in the bottle, and then the glass brings together our senses with our intellect.
Imbibe: Your go-to dinner party bottle right now?
ECB: Selecting wine for me is a dance of contexts. I reflect on who the dinner will be with, what the occasion happens to be, what the foods are (if I know), then I let my gut guide me—what is it I really want to enjoy, and what joy do I want to share with these people? The answer is my go-to for that evening.
Imbibe: What's your dream splurge bottle?
ECB: I consistently want Champagne more than anything else, so a dream splurge would have to be older vintages of bubbles. If I could travel back though I'd want to hang out with Eugène Aimé Salon when he was first making his Salon Blanc de blancs. I'm such a sucker for innovation. As obvious as Chardonnay-only champagne seems now, he went so far against the tradition of blending grapes that I'd love to listen to his thought process.
Imbibe: Which winemaker(s) are you excited about right now?
ECB: Truth? People get in my head and stay there. It's something I've had to learn how to manage. As I listen to someone, I can't help but build a map of his or her ideas and belief systems. We're all sharing our values, fears, and passions through what we say. I've been lucky. People really give me their time, but that means I carry around at least an atlas of people in my head. I got to interview Mac Forbes again recently, and his views had significantly changed over 10 months. The idea that he'd actually remapped his own beliefs about wine … not everyone does that. I liked his wines already, but I can't wait to see where they continue to go. I'd time travel for that one too.
Imbibe: Is there a wine region that you're especially excited about right now?
ECB: Do I have to pick one? I can't get enough of Yarra Valley right now. There are winemakers that are working with site expression in the yummiest way that we can all learn from. The Willamette Valley is a sleeper genius. I keep one eye on the creativity burbling there. The soils there are truly special—some of the best Chardonnay anywhere comes from Willamette Valley. To name one more, I love Friuli. The wines are full of saline sapidity, have all the potential for pure fruit and are almost arrogant with their cooler climate juiciness. My mouth is watering thinking about it.