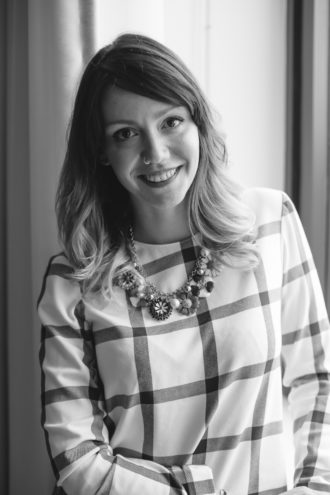 As the Global Brand Ambassador for St. Germain, Camille Vidal has become the face of the ubiquitous elderflower liqueur. Vidal grew up in France but moved to Melbourne, Australia, shortly after graduating from college. Not knowing any English, she took one of the few jobs she could find as a server in a nightclub. She shadowed bartenders and eventually began working behind the bar at Golden Monkey, but after two years, she was eager to combine her event management skills with her passion for cocktails.
She met with St. Germain founder, Robert Cooper, who invited her to join his team. Now in London, she helps develops the St. Germain brand as Global Brand Ambassador, aka Madame St. Germain. Recently, Vidal met with Joshua Harris of The Bon Vivants (and Pig & Punch) to chat about the growing industry and what she does when she's not Madame St. Germain.
JH: What do you enjoy most about working in this industry?
CV: What I love about this industry is how passionate people are. Every day is different. I feel really lucky to travel. I get to meet and learn from incredibly talented people around the world. I hope that people learn from me as well and that we inspire each other. I love the community part of it. We are all around the world, but at the end of the day, we are all so close to each other. We support each other. We love the same thing. We are all cocktail lovers.
JH: Tell me about your not-to-be-missed travel destination.
CV: I think if I were talking bars, I would say Stockholm. The bartenders are amazing. They are really talented and geeky, but I quite like that. I feel that Stockholm has gotten a lot of its bar inspiration from New York. You can walk into a bar in Stockholm and they are going to be playing bad-ass hip hop. It makes me really happy to have a delicious cocktail and awesome music together. Then for relaxing, the south of France. Not because I'm from there, but because the food is amazing, the weather is amazing and you can relax any time. I never know if my Dad actually works or if he is always on holiday. In the south of France, it depends on what you're after, but I love a tiny city called Arles. They have an incredible annual photography exhibition, they like amazing wine and it's really booming with restaurants.
JH: What's your favorite low-key restaurant?
CV: In the city where I'm from called Nimes, they've got something called Les Halles, which is a big inside market with a restaurant. You can buy your food, vegetables, fruits, etc. from all the incredible small producers in the market, and then take it all to the restaurant and they will cook you a meal with what you've just purchased. And they always have a small menu using products from the market if you don't want to bring your own ingredients.
JH: What's your go-to cocktail?
CV: It depends on the moment, the mood, the weather, where in the world I am. There's one cocktail that always works because it's kind of like the any-moment, any-situation cocktail. It's one and a half parts St. Germain, two parts sparkling wine and two parts sparkling water, served on ice in a highball with a lemon twist. So simple.
JH: Finally, I have some rapid-fire questions for you. 
JH: Dogs or cats?
CV: Dog person, but I watch a lot of cat videos.
JH: Early bird or night owl?
CV: Night owl.
JH: Coffee or tea?
CV: Tea—I've been in London for too long.
JH: Football or fútbol?
CV: Fútbol.
JH: Beach or mountains?
CV: Mountains.
JH: Forks, chopsticks or fingers?
CV: Fingers.
JH: Still or sparkling?
CV: Sparkling.