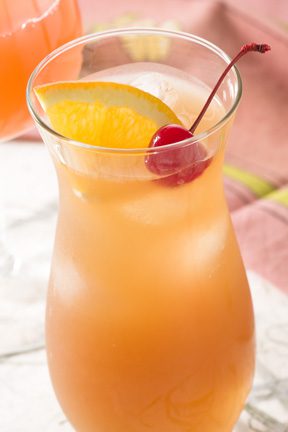 There's some debate as to where the Hurricane cocktail was actually invented, but New Orleans natives embrace this tropical mix of rum, Galliano and fruit juice as one of their own.
1 oz. dark rum
1 oz. light rum
½ oz. Galliano
2 oz. fresh orange juice
2 oz. unsweetened pineapple juice
1 oz. passion fruit nectar
¾ oz. fresh lime juice
1 oz. simple syrup (1:1)
Dash of Angostura bitters
Tools: shaker, strainer
Glass: Hurricane
Garnish: pineapple wedge, orange slice, or any other fresh fruit
Combine all ingredients with ice and shake. Strain into an ice-filled glass and garnish.
Reprinted with permission from The Essential Cocktail by Dale DeGroff. Published by Clarkson Potter, a division of Random House