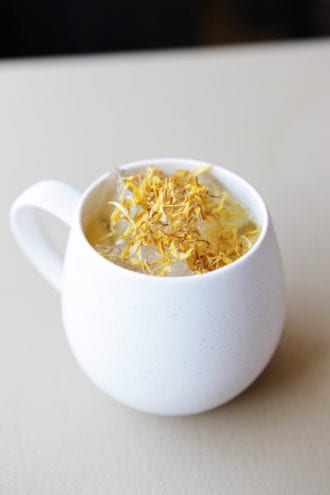 At Hunky Dory, Claire Sprouse puts sustainability at the forefront of the bar's cocktail program. In this recipe, she uses a sunflower orgeat instead of the traditional almond-based version because almonds require more water to grow than sunflowers.
1½ oz. bourbon (Sprouse uses Wild Turkey 101)
½ oz. Cynar
1 oz. sunflower seed orgeat
½ oz. fresh lemon juice
Tools: shaker, strainer
Glass: white mug
Garnish: dried sunflower and marigold petals (optional)
Combine ingredients in a shaker tin and shake with pebble ice. Dump contents into glass and pack full with more pebble ice. Garnish.
Sunflower Seed Orgeat: Combine 400 grams of hot water,
 200 grams of sugar and 150 grams of sunflower seeds, unsalted & roasted
. Blend the ingredients until smooth, then strain. Makes 1 quart.
Claire Sprouse, Hunky Dory, Brooklyn
---
Did you enjoy this recipe? Sign up for our newsletter and get our favorite drink recipes of the moment in your inbox every month.