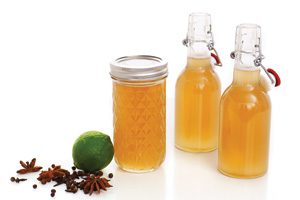 You can't make a Mai Tai or a Zombie without it. Falernum, long a staple in tiki cocktails and Caribbean drinks, has made a comeback in recent years, thanks to today's modern tiki resurgence. A cordial made from an infusion of citrus, spices, nuts and sugar, falernum adds an irreplaceable zing to classics like the Rum Swizzle, Royal Bermuda Yacht Club and Navy Grog, and while a few commercial versions are available on the market, it's surprisingly simple to whip up at home. This version of homemade falernum from Boston bartender Bob McCoy mixes blanched almonds, fresh ginger and lime zest into a rich spiced syrup, which McCoy then spikes with an overproof rum. Try it in a handful of the tiki cocktails from this issue, or in McCoy's Deluxebury Swizzle, and savor your own taste of the tropics.
Ingredients
1½ cups blanched almonds, preferably with the skin removed, coarsely chopped (slivered almonds are fine if you can't find whole ones)
½ cup peeled, roughly chopped ginger
1 Tbsp. whole cloves
1 Tbsp. whole allspice
4 star anise pods
Zest of 1 lime
1 quart white sugar
2 quarts filtered water
Overproof rum
Tools
Large glass jar with lid
Sharp knife
Large saucepan
Microplane
Cheesecloth
Large measuring cup
Large spoon
Clean glass bottles
Step 1
Place almonds in a large glass jar, cover with 1 quart of water and seal. Let sit, shaking occasionally, for 30 minutes. Strain the almonds, discarding the water and washing out the jar.
Step 2
Roughly chop the almonds, place them back in the jar, cover with the remaining 1 quart of water and seal. Let sit, shaking occasionally for 4 hours or place in the refrigerator overnight.
Step 3
Place the cloves, allspice and star anise in a large saucepan over medium heat, tossing frequently. After one minute, add the contents of the jar to the saucepan.
Step 4
Add ginger and sugar to saucepan, stirring continuously. When mixture nears a boil, reduce heat to low and let simmer for 15 minutes, stirring frequently. Meanwhile, clean the emptied glass jar.
Step 5
Remove from heat and let cool. Once cool, add the lime zest and stir.
Step 6
Pour the contents back into the cleaned glass jar, seal and refrigerate overnight or for at least 8 hours.
Step 7
Strain through a double layer of cheesecloth into a large measuring cup. For every 5 ounces of syrup, add 1 ounce of rum. Stir well to integrate. Distribute into
fresh bottles, cap and refrigerate. Will keep for up to 2 weeks.