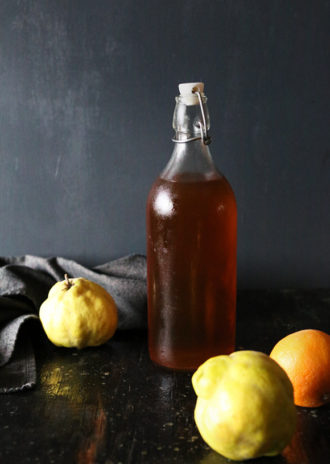 The flavors of fall infuse this homemade fruit liqueur from chef and blogger Brandon Matzek.
3 ripe apples (use a variety such as Pink Lady, Gala, Fuji or Honeycrisp)
3 ripe quince
2 cups sugar
1 cup water
2 cloves
1 cinnamon stick
2 3-inch strips of orange zest
1-750 ml. bottle brandy
Preheat an oven to 375 degrees F, and line a baking sheet with parchment paper. Core each apple and quince by first cutting off the cheeks (large segments), then the remaining smaller sides. Discard the cores.
Place the apple and quince pieces on the prepared baking sheet and roast until tender, fragrant, and slightly caramelized in some spots (30-35 minutes). Shake the pan every 15 minutes to ensure even roasting.
Meanwhile, warm sugar and water in a medium saucepan over medium-high heat, stirring until the sugar dissolves. Bring the mixture to a boil, bubble for 1 minute, then take the saucepan off the heat.
Transfer the roasted apples and quince to a large mason jar (Matzek uses one that's 1500 ml.). Add the sugar syrup, cloves, cinnamon stick and orange zest. Let the mixture cool a bit, then add brandy to fill up the jar (you may not use the full 750 ml.).
Let infuse at room temperature for 1-2 weeks (depending on the ripeness of your fruit), shaking the jar every couple of days. Start tasting at 1 week. The liqueur should be sweet with pleasant notes of apple, quince and spice. Strain into a clean glass jar and keep refrigerated for up to 1 month.
Brandon Matzek, kitchenkonfidence.com