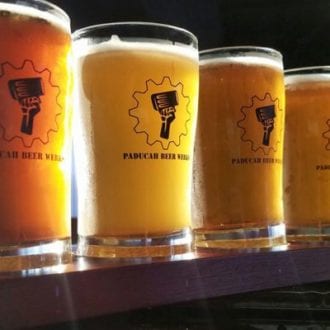 At some point, almost every home brewer with a scrap of ambition has tried to replicate his or her favorite beer at home. At least that's the assumption the American Homebrewers Association (AHA) embraced when compiling the inaugural Commercial Beer Clone Recipes Guide. The collection of 50 recipes from around the United States draws from breweries big and small, says AHA director Gary Glass. "Our goal was to come up with an interesting collection of recipes from a diverse list of breweries. We wanted a good mix of beers you may have heard of and some that are not widely available."
In the guide, well-known beers like Alaskan Brewing Co.'s Smoked Porter, Russian River Brewing Co.'s Pliny the Elder and Two Hearted Ale from Michigan's Bell's Brewery share billing with smaller local-only treasures like (512) Brewing Pecan Porter and New Glarus' Belgian Red Ale. Each recipe is scaled down to a manageable 5-10 gallon batches.
All of the breweries the AHA reached out to for the project were eager to contribute, which Glass says speaks to the openness and collaborative spirit of the indie beer scene. "You might think breweries guard their recipes tooth-and-nail, but in most cases, it's quite the opposite. All the breweries we worked with were more than happy to provide a recipe."
For the AHA, the guide is about more than just giving home brewers the chance to replicate their favorite beers. It's also a celebration of  the creativity and diversity of America's brewing scene. "It's our hope that the 50 recipes from 50 states project highlights the close connection between amateur and professional brewers and the fantastic beers that have blossomed from that connection," Glass says.