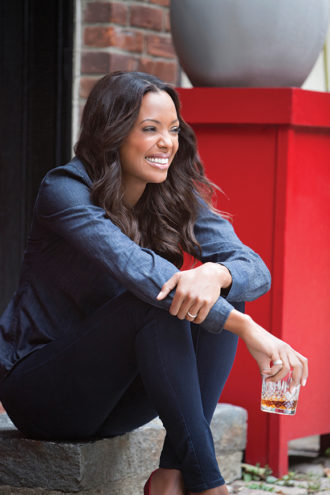 Between acting, directing, writing and advocating for organizations like the Red Cross and Doctors without Borders, comedian Aisha Tyler also happens to be something of a bon vivant. After several years of R&D, the homebrewer and cocktail enthusiast is set to launch a line of bottled cocktails this spring, so we caught up with her to hear more about how she fell in love with the cocktail world, and what you'll find her imbibing this holiday season.
Imbibe: how did you get interested in cocktails?
Tyler: I was a foodie first, so a love of well-made cocktails naturally followed. I grew up in San Francisco, which is such a great food and bar city, and that really influenced my palate. I moved back there right after college and my first job paid nothing, so I had very little money to dine out. When you love great food but you're broke, you start trying to figure out how to make delicious things at home. I started homebrewing once I learned you could make a keg's equivalent of craft beer for 20 bucks. Cocktails weren't far behind.
Have you tended bar before?
I bartended in college, and I was terrible at it—never has a Mr. Boston's been so thumbed through. But I love the conviviality of bartending, and having spent many hours on the receiving side of the bar, I feel like I know what feels and tastes best to a drinker.
You love a good Boulevardier. What draws you to the drink?
I've always loved a good Negroni, but let's face it—the Negroni is an afternoon drink, floral and herbaceous, best consumed in the sun or at cocktail hour before a meal. It just doesn't make sense after dark. Replacing the gin with a good muscular American whiskey gives it the meatiness and punch to carry you into the night. It's the Negroni's tattooed, mysterious cousin.
What beer or spirits do you always have on hand at home?
I never run out of Campari, Carpano Antica, a good gin and an easy-drinking bourbon.
What drink signifies the start of the holiday season for you?
Anything with a nice lash of allspice dram tastes like the holidays to me. I also love a well-made whiskey toddy. Cinnamon, clove, star anise and a generous dash of cayenne separates the boys from the women. I use agave [nectar], as honey can overpower the flavor of a spirit. If you can't taste the whiskey, my friend, then what exactly is the point?
Do you have any holiday traditions you uphold every year?
We get fruitcake from a local bakery every year and soak it all to hell in brandy. With a bit of lemon curd, that thing just screams "holidays."
What's your rule of thumb when it comes to holiday entertaining?
I'm too busy to throw parties anymore, unfortunately. I typically collapse on the sofa for the duration of my holiday break and try to store up rest like a sleep camel. But when I was younger and had fewer jobs, I was a big fan of the Martini bar. You can never make a Martini exactly to everyone's liking, so I set out a variety of gin styles (and one bottle of vodka) along with the proper ingredients to make all the variations—the Vesper, the Martinez—and let people get dirty on their own.
if you could grab a drink with anyone this holiday season, who would it be?
I met David Wondrich this year at Tales of the Cocktail, and I'd love to drink with him and be scolded (or praised) for my choices. I find myself sometimes drinking the same few cocktails again and again. I would love for him to jolt me into being more adventuresome. Plus, I bet he's a master conversationalist.
This article originally appeared in the November/December 2015 print edition.