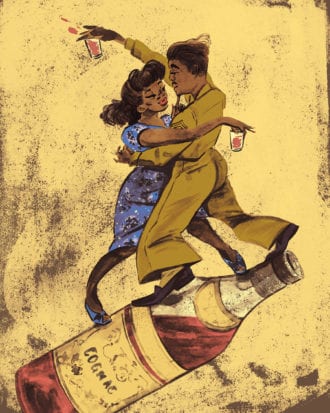 Quiet. Cognac was really quiet, eerily so, when I found myself there in early November of last year. Over the course of too many flights and a full day in Paris, I'd been wondering something: Exactly why do African Americans proudly adore Cognac above any other spirit? This question was my guiding force during my time in Cognac, as I sipped, took in the quiet, and feasted on French dishes.
My earliest memories of Cognac—save for watching adults on my mother's side of the family clink glasses filled with Hennessy on the rocks—include dancing in glee to Busta Rhymes' "Pass the Courvoisier" as a child. But reflecting upon these memories didn't elucidate the love for it, a love that felt deeply personal, and that had transitioned to becoming embedded within black culture in the United States. Where did it come from?
While learning and tasting in Cognac, I heard a lot of the same terms over and over again. But through all the technicalities, I kept a straight face, trying not to look like a complete novice about Cognac outside of pop culture references.
The answer to my question started to become clear in Jarnac, when visiting the Courvoisier Château. While I was heading down to a cellar, a photo on the wall opposite the staircase caught my eye: Ray Charles, holding a bottle of the spirit, his head tilted upward and his mouth turned in a familiar, bright smile. "Georgia on My Mind" always reminds me of my home state of Georgia, and seeing Ray Charles' face, in Cognac of all places, jolted something within me.
There was a connection there. In 1994, Charles had played at the annual jazz festival Cognac Blues Passions. As a parting gift, he'd been given a bottle of a special edition of Courvoisier. His journey mirrored the same trip other African Americans had made over the years—most notably those who, with pride for a country that often treated them as if they didn't belong, came to fight in France during both world wars. While stationed in France, these soldiers discovered Cognac, establishing and deepening their love for it as they bopped around jazz clubs and lounges.
When the time came for them to go back home, they took the spirit and the memories of it with them, passing it along to friends and family. Then, it became cemented. Targeted marketing campaigns by Cognac producers in the early 2000s only amplified a transatlantic connection built decades before. Cognac made its way into music videos and movies, becoming a cultural symbol for newer generations.
African American consumers choosing to drink Hennessy, Courvoisier, or Rémy Martin isn't random or happenstance—although it seemed that way to me before I traveled to Cognac. But the roots of this connection are less superficial and fleeting, more historical, and date back to a time when Black people born on American soil found moments to survive, to revel in joy, while in France during a perilous time. And Cognac, clinking in a glass, was their companion.
---
Did you enjoy this article? Get more of the best of liquid culture when you sign up for a print or digital subscription to Imbibe Magazine. Click here for special savings!