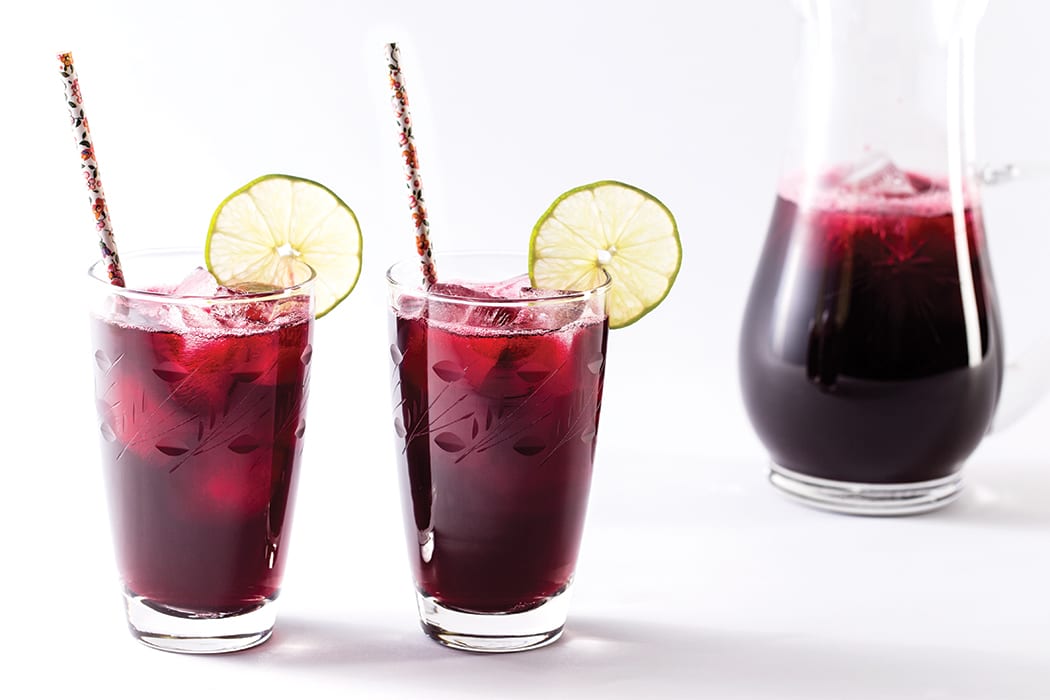 Hibiscus tea is a beverage that crosses cultures, known as agua de Jamaica in Mexico and sorrel in the Caribbean, where it's often served as a festive holiday punch. The tea boasts a tart, cranberry-like flavor and vivid garnet color, thanks to a variety of flavonoids in the hibiscus blossoms. At Minero in Charleston, South Carolina, hibiscus and complementary spices are prepared into a potent concentrate, which is then diluted with water for the tea and mixed in cocktails. "We wanted to highlight the delicate flavor of the hibiscus flower while pairing it with spices found in Mexican cuisine," says general manager Pam Berry. "Allspice, canela and ginger make the hibiscus flavor pop."
2½ quarts of water
½ cup plus 2 Tbsp. white sugar
2½ cups dried hibiscus flowers
2½ sticks canela cinnamon
6 oz. fresh ginger, sliced into rounds
⅛ cup allspice berries
Tools: Large pot with lid, knife, cutting board, wooden spoon, strainer, cheesecloth, funnel, sealable jar or containers equal to a half gallon
In a large pot, add the sugar to the 2½ quarts of water. Bring to a boil, stirring to ensure all the sugar dissolves.
While the water is heating, slice the fresh ginger into coin-sized rounds.
Remove the pot from the heat and add the hibiscus, cinnamon, allspice and ginger. Stir to incorporate, then cover and allow the mixture to steep for
30 minutes.
Strain the mixture through a strainer lined with cheesecloth and discard the solids.
Funnel the liquid into airtight containers and store in the refrigerator. This concentrated infusion should be diluted with equal parts water to serve as tea. Use within 2 weeks.

---
Did you enjoy this recipe? Sign up for our newsletter and get our favorite drink recipes of the moment in your inbox every month.