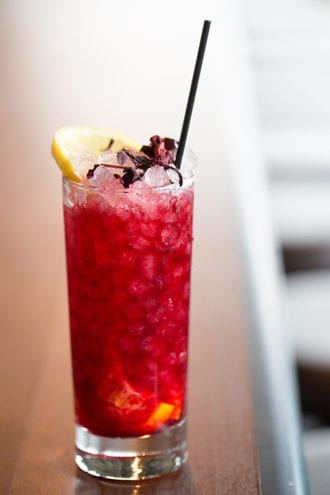 Hibiscus tea lends a floral edge to this Cognac-based cobbler. Instead of shaking the drink, Bar Casa Vale bar manager Daniel Parker Guidry treats the recipe more like a swizzle. "It makes for a more potent and refreshing version of the drink," he says.
1 tsp. grenadine
1 wheel of lemon, sliced in two
1 oz. curaçao
1 oz. cognac
1½ oz. hibiscus tea
Tools: muddler, barspoon
Glass: Collins
Garnish: lemon wheel, hibiscus flowers, Amarena cherry
In a Collins glass, combine the grenadine and lemon wheel and muddle until the oils from the citrus are released into the syrup. Add the curaçao, cognac and hibiscus tea, then fill with crushed ice. Stir until the cocktail starts to dilute, then add more ice and garnish.
Hibiscus Tea: Pour 4¼ cups of boiling water over 3½ oz. of dried hibiscus flowers, steep for 10 minutes, strain through cheese cloth and bottle.
Daniel Parker Guidry, Bar Casa Vale, Portland, Oregon
---
Did you enjoy this recipe? Sign up for our newsletter and get our favorite drink recipes of the moment in your inbox every month.