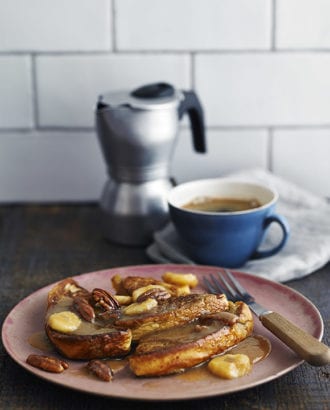 A little beer at the breakfast table shouldn't be taboo on the weekends. Here, the banana notes of Hefeweizen perfectly match cinnamon, pecans and maple syrup. Bonus: there will be plenty of leftover beer to drink.
2 eggs
3 Tbsp. whole milk
8 Tbsp. Hefeweizen
2 Tbsp. soft brown sugar
ó tsp. each salt, ground nutmeg and ground cinnamon
1–2 Tbsp. butter, for frying
2 thick slices of fresh white bread
1 banana, sliced into rings
Handful of pecan nuts
4 Tbsp. maple syrup
Crème fraîche, to serve (optional)
Mix the eggs, milk, 4 Tbsp. of the beer, sugar, salt, nutmeg, and cinnamon in a large bowl. Place a Tbsp. of butter in a large frying pan over a medium heat. Lay each slice of bread in the egg-beer mixture, allowing it to soak for a few seconds on each side, then place in the pan. Fry each slice for 2 minutes on each side or until golden brown.
Heat the second Tbsp. of butter in a small saucepan and add the banana rings and pecan nuts. Cook for approximately 1 minute, before adding the maple syrup, and then cook for a further minute. Remove from the heat and add the remaining 4 Tbsp. of Hefeweizen. Arrange the French toast on a plate and cover each slice with the banana-pecan-maple topping. A spoon of crème fraîche on top also works well. Serves 2.
Reprinted with permission from Cooking with Beer by Mark Dredge. Ryland Peters & Small.