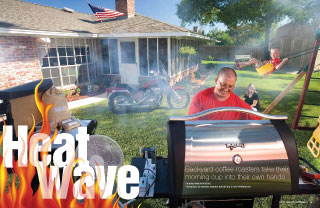 It's a typical lazy Sunday in Long Beach, Miss., and Eddie Dove is firing up the backyard grill. On any other weekend, the aroma of sizzling barbecue or burgers would fill the air, but on this day the smell of fresh-roasted coffee drifts across the yard. Instead of meats and veggies, Dove's massive gas grill holds a roasting drum filled with green coffee beans, and as he turns the drum, the coffee slowly begins to cook. For Dove, this is coffee roasting. And he's not alone. A growing legion of adventurous coffee enthusiasts who aren't satisfied with buying coffee in a store are taking matters into their own hands, roasting raw coffee beans using everything from popcorn poppers to skillets and gas ovens. While a decade ago this practice may have seemed slightly absurd, today people of all walks are trying it out, with surprisingly great results.
Office Hero
Thanks to Eddie Dove's home-roasting itch, his co-workers have an alternative to what he's deemed "the swill in the kitchen." Each weekday, Dove fills up three thermoses with his home-roasted brews before making the 75-mile drive from his Long Beach, Miss., home to his downtown New Orleans office. When he arrives, he writes selections—which might include a Full City Brazil Jacu Bird coffee—on the wipeboard behind his desk, and he offers cups to office mates waiting for their morning coffee fix. Dove, 41, who works in the energy sector, goes through several pounds of pale green-hued raw beans a week. (He accepts cash donations from co-workers.) He's used a variety of popcorn poppers and several roasting machines—Genesis' Gene Café, a smokeless Nesco/Zach & Dani's and a Hottop drum roaster. Now he primarily roasts over a gas grill in a 6-pound RK roasting drum.
Dove got into home roasting a year and a half ago after a fateful business trip. He brewed Starbucks coffee in his hotel one morning. Then, on his way to work, he stopped by a Starbucks for a store-brewed cup. "But theirs didn't taste the same as mine," he recalls. "I wanted to know why." He searched the Web for brewing information and ended up on sweetmarias.com, a home roasting supply site, where he discovered the concept of roasting at home. He ordered green beans and bought two popcorn poppers on eBay.
Dove says that, like other home roasters, his self-education is a never-ending journey. He thinks he does a fine job but, he says, there's still room for improvement. Now he even has his own blog, southcoastcoffeeroaster.blogspot.com, where he posts photos and descriptions of his roasts and product reviews of roasters.
Last Easter, Dove set a goal to roast 12 pounds in his 1/2-pound Gene Café for himself and friends. "After the first batch, the roaster broke," he says. So he built a drum roaster on the spot using tips he learned online and put it on top of his barbecue grill. "In about 30 minutes I threw that sucker together and got to roasting."
He's yielded some great brews, but his focus is on the process. "I probably enjoy roasting the coffee even more than I enjoy consuming it," he says. "The smell, the aroma, the heat—it may be 100 degrees outside, [but] I love it." He likes roasting all bean varieties but his favorites come from Guatemala, Ethiopia, Java and Mexico. He hopes to open his own roastery one day, but he doesn't obsess over making a perfect cup every time. "Burn some beans and you'll learn something," he says. "Take some notes along the way."
Hot Mama
Vicki Fox Smith isn't afraid to say she has "an odd, sorta trailer park way to roast." The 55-year old Red Deer, Alberta, mental health case manager has her low-carb diet to thank for her unusual roasting method: in a bread machine with a heat gun. "There were [home roasters] using bread machines in combination with turbo ovens, [but it's] expensive," says Smith, who had shelved her bread machine after forgoing loaves in favor of her waistline. "It occurred to me that I could repurpose." She did so with a fire extinguisher by her side. Her method: place beans in bread machine, set the machine on dough cycle and apply heat with a 1500-watt gun. "I don't know if I was the first person to do a heat-gun bread machine, but I think I've turned a lot of people [on] to bread machine roasting," says Smith, a St. Louis native who began home roasting two years ago after moving to Red Deer, where she was unable to find coffee that suited her palate.
Along with practical warnings (it's messy, smoky and there is the possibility of burning down your house), Smith provides a detailed FAQ and photos of her equipment, which includes a beer fridge—used as a base for the bread machine, on her Web site, coffeecrone.com. It's a reference for adventurous roasters who aren't afraid to step outside of the norm—our out of the house, even in chilly Alberta. Smith roasts twice a week in her unheated, detached garage.
Though she roasts year-round, even when the temperature drops below zero, Smith keeps seasonality in mind when ordering her beans from Sweet Maria's. "Some people build these huge stashes, but I like the idea that at different times of the year, different coffees are available," she says. Her favorites are African beans, such as Ethiopian Yirgacheffe. Like other home roasters, she tends to change up her methods, roasting some varieties more deeply than others.
As a woman with a gun who isn't afraid to turn up the heat, Smith admits she's in the minority. "There are certainly a lot more men [home roasting]," she says, adding that they still share a common thread. "We're all sort of geeky—we get caught up in this."
And Smith's roasting has brought her more than just good brews. When she applied for a job with the Canadian Mental Health Association, her interviewer suggested they meet for coffee. "I said, 'Why don't you come here to my house because I make better coffee than any place.' We went out to my garage and roasted coffee as part of my job interview." Yes, she got the job.
The Foodie
"Coffee to me is a type of food," says Steven Shaw, 38, author of Turning the Tables: The Insider's Guide to Eating Out and co-founder of the culinary site egullet.org. Shaw, who makes his own vanilla extract and vinegar, has found that DIY translates to coffee too. The New York City-based writer started roasting a few years ago in order to make a good cup for his wife. "A little extra effort gets you a much better product [than store-bought beans]," he says. Shaw has carefully perfected his roast, first with a FreshRoast machine and now with an i-Roast, which retails for about $150 and has a built-in thermometer and timer. He roasts Colombian Supremo Bucharamonga Especial beans, which he orders in 20-pound shipments from coffeeproject.com. "The first batch I roast very low and then finish very high. The second batch, I roast the shit out of, and then I mix the two together. That gives me the amount of acidity and mellowness I like."
Shaw, who roasts twice a week, totaling about two pounds a month, or 25 pounds a year, in his windowless kitchen, tackles the smoky process by placing his i-Roast on a cutting board under his stove's extractor hood. He calls his method a "set-it-and-forget-it operation" and says that home roasting is easy after the first five or 10 times, once you determine your settings and formula. "Once you get into it, it's like changing the toilet paper. It's not a big task."
The only downside: he says he's ruined now for enjoying coffee outside of his home—with the exceptions of a fellow home roaster's house and La Colombe in Philadelphia, which he believes has the best coffee on the East Coast. And store-bought roasted beans? Forget about it. "The worst home roasted coffee is going to be better than anything you've gotten from the supermarket," says Shaw, referring to stale, mass-roasted beans. "The top level of the supermarket ends where the worst home roasted coffee begins."
Story by Anna Mantzaris