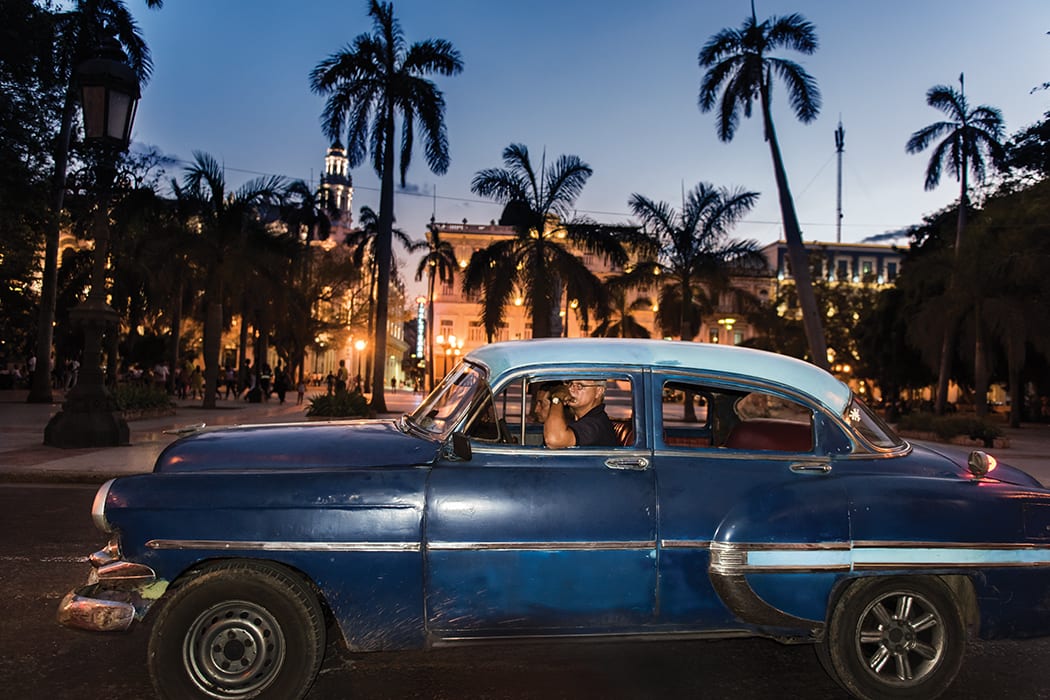 "It is becoming fashionable to follow in the footsteps of Columbus," wrote Basil Woon in the opening chapter of his book, When It's Cocktail Time in Cuba. And though Woon was writing in 1928 of Daiquiri-fueled day trips from Miami when he noted that "Have one in Havana?" was becoming a popular refrain, the recent relaxation of decades-long tensions between Cuba and the United States is once more turning American eyes to the island off Florida's coast. But with jaunts to Cuba becoming gradually easier for American travelers, and Cuba's fashionable status again escalating to Woon-like levels, can the island's capital city meet the expectations of the Cuba-curious? The answer, as with most everything related to Cuba nowadays, is a maddening "maybe."
For centuries one of the most beautiful and influential cities in Latin America—its historic center was declared a UNESCO World Heritage Site in 1982—Havana has been buffeted by more than a century of military dictatorships, mob-tied corruption and, starting in 1959, Fidel Castro's Cuban Revolution and a subsequent U.S. trade embargo that remains largely in place to this day. The demise of the Soviet Union (the nation's chief trading partner) compounded Cuba's troubles starting in the 1990s, and though the island has long attracted tourists from Europe, Canada and Latin America, visitors from its most proximate and populous neighbor have long been forbidden from visiting except under strict conditions.
But when President Barack Obama ventured to Havana earlier this year, it helped stoke a longstanding curiosity about the country that seems increasingly possible to satisfy. Photographs from Havana were intriguing enough, with fleets of vintage American Chevys and Fords cruising the streets, along with armies of boxy Soviet-made Ladas and buzzing bright-yellow Cocotaxis. The streets themselves reflect Havana's colonial grandeur, as well as its status as an ultra-chic playground for mid-20th century tourists. But Cuba's not quite that easy—more than a half-century of embargo and authoritarian regime have created a dystopic reality, with intricate rules and limitations affecting everyday life.
And while Cuba sparks curiosity among Americans of every stripe, for bartenders and cocktail enthusiasts, it's a land of history and promise. The Daiquiri calls the island home, as do generations of its descendants, and classic cocktails from the El Presidente and Hotel Nacional Special to the Mojito and Cuba Libre have their origins in the island's bars. So it's not surprising that Julio Cabrera, a Cuban-born bartender who's lived in Miami since 2006, finds no shortage of volunteers for his regular excursions that take American bartenders to the historic bars of Havana. "We go for educational purposes—it's not for tourism or to hang out," Cabrera says, noting that while interest has always been high, the easing of tensions with the U.S. is sparking fresh appeal. "American bartenders have been denied Cuban rums because of the embargo, and it's a way to discover cantinero [Cuban bartender] culture and Cuban classic-cocktail bars. We go and try different rums, and they work behind classic bars, and they learn from the cantineros."
Cocktail Time in Cuba
Havana shares a deep cocktail history with cities like New Orleans and New York, but the Cuban capital has a notable difference: in many bars predating the 1959 revolution, little seems to have changed. I witness this preserved-in-amber status my first day in town, when I step into Polynesio. In 1958, the building was constructed by Conrad Hilton as a Caribbean centerpiece to his hotel empire—and for the restaurant at the Havana Hilton, the hotelier invited the era's equivalent of a celebrity chef: "Trader Vic" Bergeron. Bergeron visited Havana in 1938 to study Cuban cocktails before building his tiki kingdom, and the Havana outpost was to be a particularly prized jewel in Trader Vic's crown. But within a year, Castro's guerrillas swept into the city, and the Havana Hilton was rechristened the Habana Libre.
And Trader Vic's? It remains, largely untouched, as Polynesio. Gustavo, a bartender, takes me through the room, rapping on furniture and pointing out the woven matting overhead, the ornate lanterns above the bar, the clay ovens and the decorative ironwood clubs, repeating a single word as he goes: "Original, original."
Such untrammeled history is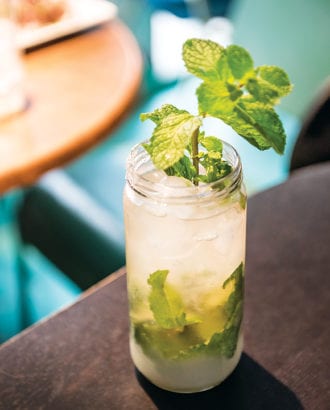 rare to encounter, and while the last 60 years have hardly left Havana untouched—time, nature and neglect are inflicting inevitable decay on the city—the incessant flow of change and renewal so common elsewhere in the world is largely absent.
Largely, that is. Because while a walk through the older parts of Havana can make it easy to pretend that you've stepped back in time, many of the city's historic bars have been more-or-less maintained, and some newer paladares (privately owned bars and restaurants) have even come online, offering a glimpse of what a post-embargo Havana may resemble.
Restaurant Dos Hermanos—with its proximity to Havana's port, the first stop for many American visitors during Prohibition—looks much the way it must have to thirsty drinkers almost a century ago, as does La Bodeguita del Medio, which boasts (unconvincingly) of being the home of the Mojito, its main nod to the advance of time the thickening gnarl of its ubiquitous graffiti. And Sloppy Joe's—which in the 1920s was perhaps the most famous bar in the world, with its 50-foot-long mahogany bar drawing drinkers by the dozens across the Straits of Florida—has been spruced up to Times Square levels to show off for tourists.
But every denomination's devout have their own places of pilgrimage, and for cocktail true believers, that destination is El Floridita in Habana Vieja. Bar Restaurant La Florida, which eventually adopted its affectionate nickname, first opened as La Piña de Plata (the Silver Pineapple) in 1817. Floridita built its own global reputation, based in part on the Daiquiri-divining powers of bartender and co-owner Constantino Ribalaigua Vert, or Constante—who began working at the bar in 1904 and remained a fixture there until his death in 1952 (after preparing more than 10 million Daiquiris during his lifetime, it was reported)—and one of Floridita's famous regulars, Ernest Hemingway.
An ill-considered 1988 remodel gave the bar an Italianate decor, but its status as La Cuna del Daiquiri (The Cradle of the Daiquiri) remains, as enshrined on the bar's marquee and in script along the back bar, and via the more than 2,000 Daiquiris the bar's cantineros prepare each day. The Daiquiri wasn't invented at Floridita, but Constante elevated the drink to an art form, creating variations that have endured for almost a century. (Floridita's status as a Hemingway haunt remains, as well—a life-size bronze statue of the author occupies a spot at one end of the bar.)
Inside, the air is filled with the whir of blenders and the infectious sound of salsa from a band wedged into a spot near the door. Red-jacketed cantineros pour rum into running blenders in long arcs, as if from a Spanish poirron, and the bartop is filled with drinks—the Floridita's eponymous Daiquiri, rich Piña Coladas and golden Mulata Daiquiris, a delicious drink with a non-PC name, blended with aged rum, crème de cacao, lime and sugar. And while selfie stick–wielding visitors crowd around Hemingway's statue during daylight hours, in the evening, a different vibe kicks in; the music and rum take effect, the crowd relaxes, the ratio of locals rises, and El Floridita again demonstrates how it's earned its place not only in history, but on contemporary lists of the world's great bars.
Alejandro Bolívar Rodriguez first started tending bar at Floridita in 1993, after an initial career as an engineer, and in 1998 he returned to the bar full-time. Now the head bartender at Floridita—some members of the team have worked together for decades—Bolívar Rodriguez says consistency is key to the bar's enduring story. "During Constante's time, his nephew, Antonio Meilán, worked with him for many years," he says. "Antonio and Constante's wife ran the place after he died, until the revolution, when the bar was nationalized. But I had the opportunity to work with Antonio and all these guys, so the history has been passed from one hand to another. That's one of the reasons the Daiquiri is made at Floridita the way Constante was making them in the 1920s."
Coffee and Cane
While the Daiquiri helped put Cuba on the cocktail map, the drink wasn't the island's first to attract international attention. Beginning in the mid-1700s, planters introduced coffee to Cuba, and by the early 1800s, it was widely cultivated in the Sierra Maestra mountains. Following the Cuban Revolution, coffee plantations were nationalized, and the collapse of the Soviet Union led to the loss of Cuba's largest market for coffee and most other goods. Coffee production dropped by almost 80 percent by 2010, and in 2011 the Cuban government began adding ground chickpeas to the coffee sold to residents, to keep more of the dwindling supply available for export markets.
Today, coffee is a conundrum in Cuba. Domestic supplies are still insufficient, though limited quantities of Cuban coffee began entering the U.S. again earlier this year from Nespresso. Cuban citizens either make do with rationed coffee or find an illicit way around the restrictions to satisfy their taste for café Cubano—sweetened espresso, made by mixing sugar with ground coffee before brewing and often prepared in a Moka pot—or for the milk-laced café con leche or the sweetened cortadito, the latter being a café Cubano topped with steamed milk. Two roasteries—Café El Escorial and Café O'Reilly, both run by the Cuban government—operate tourist cafés in Havana, while locals more typically consume coffee at home or on the street, either purchased from small cafeterias or from impromptu merchants operating from their homes.
I stop into one of the tourist cafés near the Plaza de la Cathedral one afternoon, but I find the day's coffee supply already depleted, as noted on a handwritten sign near the door. Instead, I wander the streets through Habana Vieja, and facing a small square on Calle San Juan de Dios, I find what I'm looking for. The coffee vendor is short, rotund and shirtless in the heat, a dusting of gray hair over his dark dome, and from a thermos he pours café Cubano into a small ceramic cup with a topographical map of tiny fractures, then pushes it through the iron bars fastened over his window. The coffee is intensely dark, very strong and heartbreakingly sweet.
But for much of its history, Cuba's been synonymous with rum. Bacardi founder Don Facundo ushered Cuban rum into the modern age in the late 1800s, and although the Bacardi family fled the country following the Cuban Revolution and the company's Havana headquarters and Santiago de Cuba distillery were nationalized (the distillery's rum is now sold under the Ron Santiago label, among others), the spirit has remained significant to Cuba's identity, and its economy. And as relations with the U.S. ease, with few other export options available, rum may once more become Cuba's chief ambassador to its northern neighbor.
Havana Club is Cuba's primary export brand; an older distillery, at Santa Cruz, produces spirits primarily for the brand's three-year-old white rum, and a newer facility in San José focuses on rums that make up older blended expressions. As with much of Cuba's infrastructure, the distilleries were in rough condition after decades of economic embargo, but a 1993 joint partnership with Pernod Ricard led to the construction of the San José distillery in 2007, with new stills and equipment fabricated in France but based on the classic Cuban model. The expansion and rehab enabled Havana Club to grow significantly, and in 2014, the brand sold more than 50 million bottles of rum in more than 120 countries.
The country count may bump up by one, and the rum count by possibly millions of bottles, should the U.S. market open to Cuban rum. (The distillery count may increase, too; Havana Club has another distillery in Santa Clara that may go online should U.S. markets open.) Former Cuban rum giant Bacardi has fought Havana Club's rise for years, waging an incessant trademark battle. But if and when Cuban rum again flows in the U.S., American rum drinkers will have plenty to keep them busy.
Unlike most other Caribbean rum, Havana Club is made exclusively from sugarcane grown on the same island—and owing to Cuba's troubled economy and the expense of agricultural inputs, most Cuban sugarcane is de facto grown organically. The sugarcane is crushed and the juice, or guarapa, is cooked down to crystallize the sugars, and the remaining molasses is then mixed with yeast and water and left to ferment for 24 to 30 hours, before being distilled into aguardiente, which comes off the still at 75 percent ABV. The aguardiente is oily and smooth, with a grassy, floral fragrance; this spirit is aged in oak barrels for two years, then is adjusted with high-proof distillado de caña, or cane distillate, and water before going back into barrels for another three years. (To satisfy labeling protocol, the age stated on the bottle reflects this second aging process, so a rum sold as three years old has actually spent at least five years in wood.)
And this is where it gets complicated. Cuban rum employs a Byzantine process called añejamiento, a system of blending and aging overseen by a team of eight maestros. (Three are dedicated solely to Havana Club.) Tinkering with variables ranging from the percentage of aguardiente in a given barrel, to the age and condition of a barrel, to the barrel-proof of the rum, the maestros create a number of basés—building blocks of rum—that are deployed in myriad combinations to create a desired result.
And the results can be quite desirable. Havana Club's three-year-old white rum is grassy and lean, and the seven-year-old is dry and cocktail-ready, and the rum's character expands with greater age. The 15-year-old rum has a richness of pancakes and syrup, the Selección des Maestros has a mile-long finish bursting with winter spice, and the Unión-Cohiba offers a mighty explosion of expressive flavor, the best to complement the Cohiba cigar it was designed to accompany.
Present Tense
Bars such as Floridita may draw cocktail connoisseurs looking for the classics, but Havana can hardly build a new drinks future without contemporary voices. And while those seeking seasonally changing cocktail menus or lists of bespoke drinks will likely be disappointed—Havana's cocktail history may be strong, but availability of most spirits and cocktail ingredients is severely limited—some newer Havana bars are keeping the island's cocktail credentials current, and offer promise for coming years.
El Cocinero is an upscale restaurant with a terrace bar, housed in a former factory in the Vedado neighborhood, and it's currently the hottest ticket in Havana. (The restaurant is popular with diplomats, and Michelle Obama paid a visit earlier this year.) Visitors reach the dining room and bar via a spiral staircase inside the unused chimney, and the terrace boasts cool breezes and views of Havana, along with a modern decor. The cocktail menu may offer little adventure—Cuban classics, along with drinks such as the Cosmopolitan and a Spanish-style Gin & Tonic—but the care in preparation and delivery is fully in tune with today's wider cocktail culture.
A similar art-driven dynamic appears at 304 O'Reilly in Habana Vieja. One of the first paladars to open in the city after the Cuban government lifted its ban, the bar has earned a reputation as one of the best restaurants in the city, and its gin-focused menu offers an alternative to the incessant flow of Daiquiris. Across the street is El del Frente, owned by the same brothers as 304 O'Reilly; in addition to outstanding food, the restaurant features an expansive rooftop bar. La Guarida is a similarly renowned paladar, with a rooftop bar specializing in tiki drinks designed in partnership with Paris bar owner Scotty Schuder and London bartender Andy Loudon.
Siá Kará Café, near the Capitol building, has an art-inflected louche European vibe, and while there are few surprises on the drinks list—Mojitos, Caipiroskas, Piña Coladas—the staff shows a refreshing attention to detail. Versus 1900 is a newer addition to the city, and its breathtaking rooftop bar features two Havana standards: a majestic city view and well-made Mojitos.
Visitors accustomed to cutting-edge cocktails might find many Havana offerings behind the times, but signs of potential present themselves in unexpected places. Seeking respite from a sudden rain shower, I head into Sarao's in Vedado. The room resembles a Miami nightclub from the 1990s, with white banquettes contrasting against the shiny black floor and bar top; Champagne swag adorns the walls. But while the setting is more Night at the Roxbury than Buena Vista Social Club, there are signs of promise: a Negroni and Manhattan offered amid the menu of Cuban standards, and a bartender stirring drinks in a Japanese mixing glass with a fork-tipped barspoon, tipping a spoonful out on the back of his hand for a taste before straining the cocktail into a chilled glass.
Cuba might seem frozen in time to the casual observer, but signs of a thaw are everywhere. And as Americans venture once more to this inimitable Caribbean island, they may find that both past and present offer promise for Cuba's future. "Some Americans come here, and they feel like they're at home," says Alejandro Bolívar Rodriguez. "They come in, listen to music, smoke a Cuban cigar, have a Daiquiri. They can enjoy the place—enjoy being in Cuba."