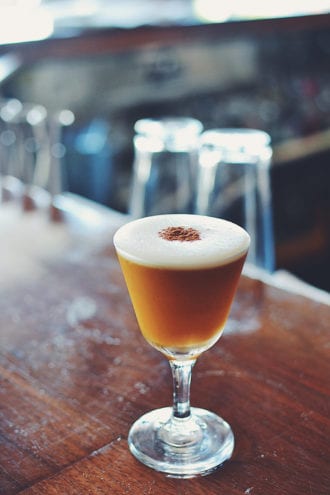 The warming notes of Sfumato Rabarbaro, applejack, Armagnac and spiced pumpkin syrup lend an autumnal edge to this cocktail. "I was looking to create a fall cocktail that had Massachusetts written all over it," says Ned King of Amherst Coffee + Bar. "Something that made you think of picking apples and carving pumpkins. The name comes from Harvard Forest in Petersham, Massachusetts, and it's only a few miles from where I grew up. It's owned by Harvard University and is one of America's oldest managed forests."
1 oz. applejack
1 oz. Armagnac
½ oz. Cappelletti Amaro Sfumato
¾ oz. spiced pumpkin syrup
¾ oz. fresh lemon juice
1 egg white (pasteurized, if you like)
Tools: shaker, strainer
Glass: coupe
Garnish: grated cinnamon
Combine all the ingredients in a shaker and dry shake to emulsify egg white. Add ice to the shaker tin and shake until chilled. Strain into a chilled coupe. Garnish with a sprinkle of cinnamon in the center of the cocktail.
Spiced Pumpkin Syrup
1 cup granulated white sugar
1 cup Demerara sugar
1 cup water
½ tsp. grated cinnamon
1 tsp. vanilla extract
6 Tbsp. pumpkin purée
Combine all the ingredients in a saucepan over medium heat, stir until combined. Once the mixture starts to boil, reduce heat to medium/low and let simmer for 3 min. Remove from heat and let cool. Strain the liquid into a bottle and store in a lidded container in the refrigerator.
Ned King, Amherst Coffee + Bar, Amherst, Massachusetts
---
Did you enjoy this recipe? Sign up for our newsletter and get our favorite drink recipes of the moment in your inbox every month.