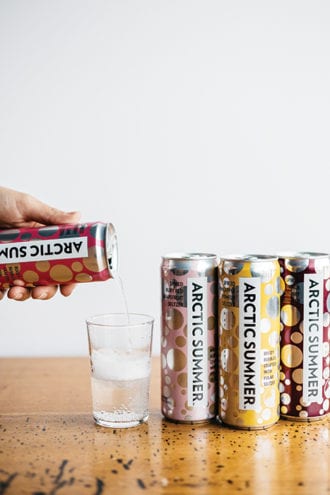 As contributing editor Joshua M. Bernstein reports in his feature on the future of craft beer in the September/October 2019 issue, breweries are starting to expand their capabilities by making ciders, boozy sodas, beer cocktails and more to stay competitive in an increasingly crowded industry. Some have turned to one of the beverage industry's fastest-growing categories: hard seltzer. Low-proof and with little to no sugar, these seltzers are proliferating quickly, but many leave a lot to be desired. Here are five worth trying.
Arctic Summer
Unlike most hard seltzer companies, Arctic Summer has a bubbly foundation that goes back to 1882, when co-founding company Polar Beverages started making seltzer in Massachusetts. The family-run business teamed up with Boston-based Mass. Bay Brewing Co. (parent company of Harpoon, UFO, Clown Shoes, and City Roots Cider) to make modern spiked seltzers. Composed of an alcohol base brewed by Mass. Bay then infused with carbonation and flavor by Polar, four flavors fill the lineup—raspberry lime, ruby red grapefruit, pineapple pomelo, and black cherry—all hitting the 5 percent ABV mark. The grapefruit is a standout, with a bright citrus flavor and a snappy sparkling finish.
Bon & Viv Spiked Seltzer
Coming from beer behemoth Anheuser-Busch, Bon & Viv's portfolio includes seven crowd-pleasing flavors: black cherry rosemary, cranberry, pear elderflower, clementine hibiscus, prickly pear, lemon lime and grapefruit. Their light carbonation makes them seem more like flavored water, but they still come in at 4.5 percent ABV. In addition to cans, the brand is also available on draught in bars around the country.
Pacer Low Proof Seltzer
With three flavors (melon & mint, blood orange, and Meyer lemon & lavender), Pacer seltzers come from the pH experiment, the avant garde arm of the Craft Brew Alliance. All three have a medium level of carbonation and a crisp, clean flavor profile, and each comes in at just 2 percent ABV.
Truly Spiked & Sparkling Hard Seltzer
The Boston Beer Company launched this hard seltzer brand in 2016 and have since rolled out 13 flavors. With options for people who prefer citrus, berry, tropical or rosé flavors, the seltzers are a light-bodied but flavorful option that clock in at 5 percent ABV. The mixed berry has a little more natural sweetness than the others, with a good depth and structure thanks to the addition of Mandarina hops. They're also available on tap at a number of bars around the country.
Wild Basin Boozy Sparkling Water
Colorado's Oskar Blues Brewery is behind this line of seltzers. Named after the area that borders the St. Vrain river in the mountains of Colorado, the 5 percent ABV seltzers come in five flavors: lime, cucumber peach, melon basil, lemon agave hibiscus and black raspberry. The Melon Basil is one of the brightest of the bunch.
---
Did you enjoy this recipe? Sign up for our newsletter and get our favorite drink recipes of the moment in your inbox every month.