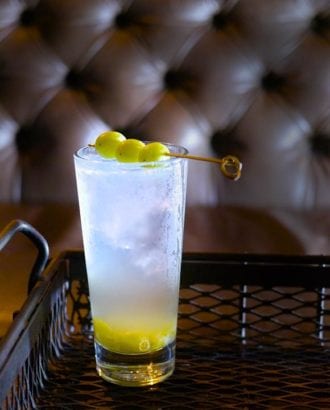 In an effort to reduce waste behind the bar, Harvard & Stone head bartender Aaron Polsky uses leftover Champagne to make the syrup that sweetens this highball. "Champagne's flavors are a great addition to cocktails, and this Collins is no exception," he says.
2 oz. gin or vodka
¾ oz. Champagne simple syrup (1:1 flat Champagne and sugar)
¾ oz. fresh lemon juice
6 white grapes
Club soda, to top
Lime leaves (optional)
Tools: muddler, shaker, strainer
Glass: Collins
Garnish: grapes
Muddle 3 grapes in the glass until gently crushed. Add ice. In a mixing tin, combine the base spirit, syrup, lemon juice and ice and shake until chilled. Strain into the prepared glass. If using lime leaves, drop into the glass. Top with club soda and garnish.
Aaron Polsky, Harvard & Stone, Los Angeles
---
Did you enjoy this recipe? Sign up for our newsletter and get our favorite drink recipes of the moment in your inbox every month.