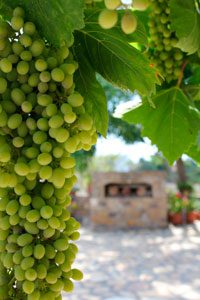 In our May/June 2012 issue, writer Ruth Tobias explores the vineyards and varietals of one the Mediterranean's most flavorful countries. Greeks have cultivated wine grapes since before Dionysus became the god of the grape harvest, and though the wines faded from favor during the latter part of last century, the industry is making a comeback with innovative young producers and generations-old estates producing wines that offer supreme tastes of the country's ancient art. Here are 10 bottles worth a try.
Domaine Spiropoulos Ode Panos NV
When it comes to bubbles, we love, love this organic sparkler from the centuries-old Domaine Spiropoulos estate. Crafted from the floral Moschofilero grape with velvety bubbles, bright lemon acidity, notes of dried apricots and a kiss of residual sugar on the finish, this wine is reminiscent of a drier version of Italy's Moscato, and it's a great match for brunch, cheese plates and desserts. $20, laurentiwines.com
Domaine Sigalas Assyrtiko
Crafted from Assyrtiko, the main white wine grape of the island of Santorini, this refreshing quaffer drinks like a light Sauvignon Blanc with flavors of fresh grapefruit and a bright, lemony acidity, but with a nicely weighted structure and a minerality on the finish that makes it very food-friendly. $22, sherry-lehmann.com
Gaia Estate Assyrtiko Wild Ferment
Riesling fans will fall for this funky little gem from one of Greece's most esteemed wine estates. Produced on the island of Santorini with grapes harvested from 15 different plots, this wine offers a briny, lemony freshness with an underlying layer of minerality. $25, awinestore.com
Ritinitis Nobilis Retsina
For those of you thinking—retsina, really? Yes, really. The centuries-old pine resin-flecked sipper that gave Greek wine a bad wrap does have the potential to captivate the senses, and this bottle is proof. Crafted mostly from the white Roditis grape with pine resin steeped into the fermenting grape must, this contemporary interpretation offers herbaceous notes of eucalyptus and mint, mixed with the style's trademark twinge of grassy pine needles. It's a great match to fried, salty foods. $14, klwines.com
Skouras St. George Nemea
A crowd-pleasing wine that marks a great entry point to Greek reds, this fresh, red-fruit sipper is made with the St. George grape (also known as Agiogitiko). It ferments in stainless steel but barrel-ages for a year before going into bottle resulting in ripe berry and plum fruit flavors up front met by notes of vanilla and sweet spice on the finish. It's also delicious served with a slight chill. $15, klwines.com
Thymiopoulos Vineyards Young Vines
Tucked away in northern Greece's famed Naoussa region, 30-something vintner Apostolos Thymiopoulos crafts this biodynamic wine from cool climate-grown Xinomavro grapes. The results are bright and fresh with notes of currants, tangy cherries and raspberries met with food-friendly acidity and a bit of tannin for balance.
$14, klwines.com
Gentilini Syrah
This organically grown Syrah (mixed with a splash of Mavrodaphne) from the second-generation Gentilini estate is both dense and intense. The fruit is clipped way back while it's hanging on the vines to help concentrate the Syrah's trademark flavors of black pepper, dark plum and berry fruits, while the location next to a limestone quarry contributes to an underlying minerality. Add to that a full year of barrel aging, and this wine is set to be sipped aside rich meat dishes and strong cheeses. $32, winechateau.com
Alpha Estate Red
An Old World vintner takes a New World approach to wine with this unfiltered combination of Syrah, Xinomavro and Merlot crafted from estate-grown fruit in Greece's northern Amyndeon region. It's complex with notes of leather, ripe blackberries and spice (think vanilla, clove and white pepper). $36, premiercru.net
Domaine Porto Carras Limnio
An ancient vine originally from the island of Limnos but now grown throughout Greece, this 100% Limnio offers buttery aromas, soft fruit flavors and a twinge of cinnamon spice. $15, suburbanwines.com
Ktima Pavlidis Thelma Red
Two very different varietals make for a unique and harmonious blend in this bottling from Ktima Pavlidis in Greece's northern Macedonia region. Dense, peppery, black-fruited Syrah meets with the lighter, more red-fruited Agiogitiko grape resulting in a soft, elegant wine with great structure and finesse. $20, winechateau.com