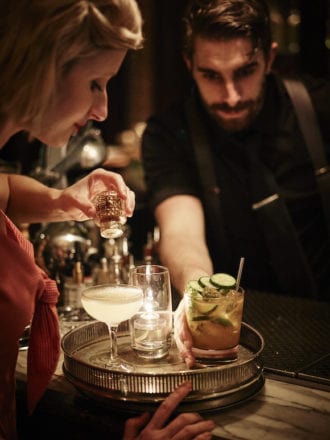 At The Everleigh, Michael Madrusan and his bar team frequently create drinks by beginning with a "mother cocktail," then adding little twists to create variations. The Gordon's Cup is a recipe from the late Sasha Petraske, a longtime mentor to Madrusan, and it's featured in his book A Spot at the Bar. For variations, add a dash of Worcestershire and hot sauce, and it becomes the more savory Gordon's Breakfast. Use a smoky, chipotle hot sauce and swap the gin for bourbon and you've got the Square Meal.
2 oz. gin
¾ oz. simple syrup (1:1)
5 fresh lime chunks
6 cucumber slices, 3 reserved for garnish
Tools: muddler, shaker
Glass: double rocks
Garnish: cucumber slices, flakes salt, fresh-ground pepper
Add lime, cucumber and simple syrup to a shaker and muddle. Add the gin and cracked ice and shake briefly. Pour into a chilled double rock glass. Garnish with fresh cucumber and sprinkle with salt and pepper. 
---
Did you enjoy this recipe? Sign up for our newsletter and get our favorite drink recipes of the moment in your inbox every month.