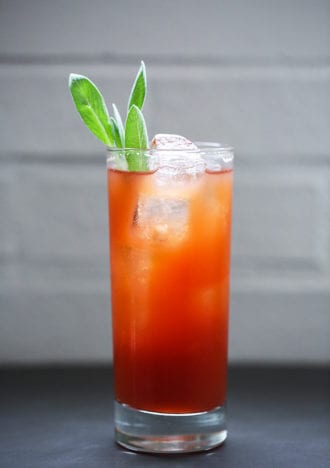 A distant cousin of the Pimm's Cup brings a rush of botanicals to the glass.
1½ oz. gin
½ oz. Pimm's
½ oz. sage syrup
½ oz. fresh lemon juice
3 dashes Angostura bitters
Glass: highball
Garnish: fresh sage leaves
Build in a cocktail glass. Top with soda, add ice and stir. Garnish.
Sage Syrup: Bring 3 cups water to a boil. Lower the heat to a simmer and add ½ cup of fresh sage leaves. Steep for 7 minutes. Strain through a chinois to remove all solids. Add 3 cups of sugar to the liquid mixture and stir until the sugar has dissolved. Store in an airtight container and refrigerate for up to a month.

James Tortoreti, Mary Eddy's at the 21c Museum, Oklahoma City