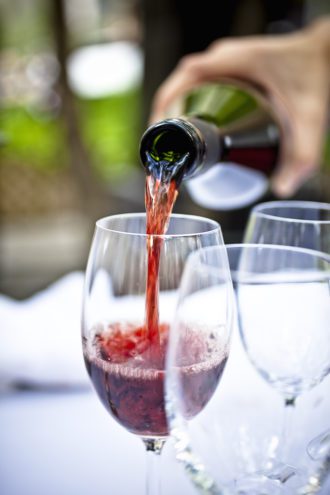 Tricky to pronounce but easy to drink, Mourvèdre (pronounced moor-veh-dra) has grape geeks around the globe taking note. A longtime blending grape throughout southern France and Spain, modern Mourvèdres are showing themselves more and more as a worthy solo sipper. In fact, we've named domestic Mourvèdre a featured flavor of our 2014 Imbibe 75. But there's more to Mourvèdre than what's happening on our own side of the pond, so we tasted through a variety of wines across the Old World and New.
Old World Mourvédre
Making its home in some of the oldest wine regions in the world, Mourvèdre (also known as Monastrell in Spain), thrives in France's Rhone Valley and Provence regions, as well as in Valencia and Jumilla, Spain. With each region cultivating it in its own unique way, there are countless interpretations on the classic winemaking grape—here are three of our Old World favorites.
Domaine Tempier Bandol 2011
In order for a wine to carry the Bandol AOC name on its label it must be comprised of at least 50% Mourvèdre. This offering from famed area estate Domaine Tempier ups its inclusion to near 75%, with Grenache, Cinsault and Carignan making up the balance. Fermented with natural yeasts and aged for nearly two years before bottling, this wine is silky-smooth with age-worthy notes of leather and chocolate. The Mourvèdre-rich rosés from the region are also not to be missed.
$40, klwines.com
Enrique Mendoza la Tremenda Monastrell 2010
Made from a single vineyard of Monastrell grapes planted nearly 30 years ago, this Alicante, Spain-born beauty is rich and deeply structured with notes of dark fruits and subtle minerality and spice.
$16, bevmo.com
Mas de Boislauzon "Tintot" Châteauneuf du Pape 2010
This splurge-worthy bottle from France's Chateauneuf du Pape appellation is uniquely comprised entirely of Mourvédre—a rarity for the region. Dense purple in the glass, this wine is Old World Mourvédre through and through with flavors ranging from fresh blueberries to smoked game to dried herbs.
$90, klwines.com
New World Mourvédre
From California's Central Coast to Walla Walla in Washington State to southern Australia, Mourvédre is on the move in New World wine regions where dry, dusty soils provide ideal growing conditions for the thick-skinned grape—here are five of our favorites.
Syncline
Syncline in Washington State's Columbia Valley produces two distinctive Mourvédres—one from a trio of vineyards in the granite-rich Red Mountain AVA (including fruit from the lauded Ciel du Cheval), and a second mostly comprised of grapes from the Horse Heaven Hills AVA. With only 160 cases of the Red Mountain bottling produced, it's is strictly reserved for wine club members, but the rest of us can still get a taste of the Columbia Valley version direct from the website.
$30, synclinewine.com
Helioterra Walla Walla Valley Mourvédre 2011
Sourcing fruit from a single estate in eastern Washington's Walla Walla Valley, winemaker Anne Hubatch's fruit-forward Mourvédre shines in the glass with notes of ripe berry fruit met by light dusty tannins and spice.
$31, northwest-wine.com
Edwin Dyer Mourvédre 2012
Portland, Oregon-based urban winemaker Nic Donahue produces Rhône Valley-inspired wines under his second label, Edwin Dyer, including this single-vineyard Mourvédre sourced from southern Oregon's Rogue Valley. Expect bright cherry flavors intermingled with an earthy rusticity and soft cinnamon spice.
$30, alchemywineproductions.com
Tablas Creek Mourvédre 2011
Tablas Creek in California's Paso Robles wine region has made a single-varietal Mourvédre every year since the 2003 vintage. Crafted from estate-grown and certified-organic grapes that ferment on native yeasts before aging in large oak barrels and bottling, this Mourvédre is dusty as the local Paso soil with notes of dried fruits and herbs and plenty of baking spice.
$40, tablascreek.com
Hewitson "Baby Bush" Mourvedre 2011
Made from vines grafted from some of the oldest Mourvédre in Australia (dating back to the mid-19th century), this wine encompasses everything we love about New World Mourvédre—it's plump and lush with brambly fruit flavors met by subtle earthiness and spice.
$20, klwines.com