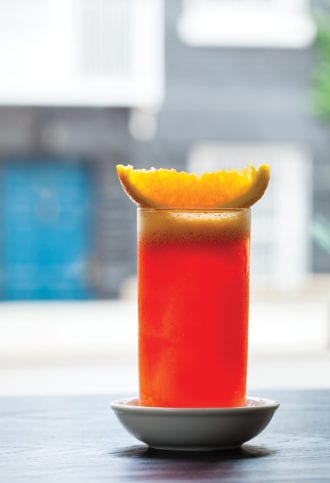 The Garibaldi cocktail, a favorite at Dante in New York, is elegantly simple, but the secret to its appeal lies in the quality of the orange juice and the preparation technique. Use the freshest oranges available (Dante typically uses Valencia, but they also use other varieties that are in season) and press the fruit immediately before serving; Dante uses a household Breville juicer, which yields an especially frothy foam.
1½ oz. Campari
Juice of 1 orange (approximately 4 oz.)
Tools: juicer, barspoon
Glass: 8 oz. tumbler
Garnish: orange wedge
Place 2 ice cubes in a tumbler and add the Campari. Press the orange and add half of the juice; stir to combine, then add another ice cube and the remainder of the orange juice. Garnish.
Adapted by Naren Young, Dante, New York City
---
Did you enjoy this recipe? Sign up for our newsletter and get our favorite drink recipes of the moment in your inbox every month.