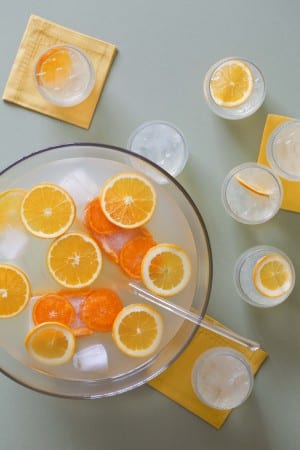 The fizzy, celebratory French 75 punch gets scaled up for a crowd, perfect for toasting anything from holidays to the arrival of the weekend.
2 cups London Dry gin
1 cup fresh lemon juice
¾ cup simple syrup (1:1)
½ tsp. orange bitters
4 cups dry Champagne or other dry sparkling wine, chilled
1 large ice block or 2 smaller blocks
Tools: punch bowl
Glass: punch
Garnish: orange wheels
In a punch bowl, combine the gin, lemon juice, simple syrup and bitters and stir until blended. Just before serving, pour in the Champagne or sparkling wine and stir gently. Add the ice and garnish. To serve, ladle into punch glasses. Serves 8.
Kara Newman, Cocktails for a Crowd, Chronicle Books, 2014