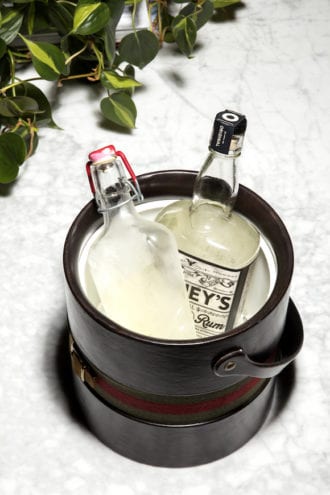 A little prep goes a long way when it comes to cocktails on the go, an idea Kara Newman embraces to the fullest in her book Road Soda. For her flask Hemingway Daiquiri, the drink's essentials are frozen at an angle inside the flask (which allows the ice to loosen quickly) before adding the rum when ready to drink.
¾ oz. fresh lime juice
½ oz. fresh grapefruit juice
½ oz. maraschino liqueur (Newman uses Luxardo)
½ oz. water
2 oz. white rum
Funnel the lime juice, grapefruit juice, maraschino liqueur and water into a flask. Cap the flask tightly, then set it in the freezer at 45-degree angle and freeze for at least 3 hours. Decant the rum in another container separately.
When ready to drink, open the flask and pour in the rum using a funnel. Shake vigorously until all of the ice has melted.
Reprinted from Road Soda: Recipes and Techniques for Making Great Drinks Anywhere by Kara Newman. Copyright 2017 by W&P. Published by Dovetail Press, a publishing imprint of W&P.
---
Did you enjoy this recipe? Sign up for our newsletter and get our favorite drink recipes of the moment in your inbox every month.