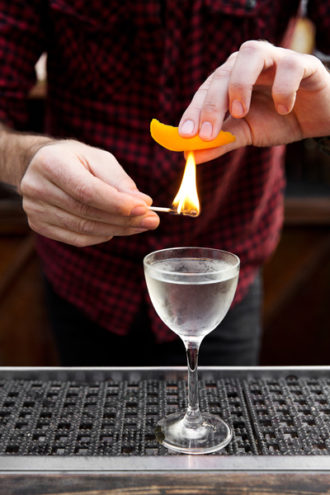 Chasen's was a Beverly Hills watering hole long cherished by the Hollywood set. The Flame of Love was crafted by bartender Pepe Ruiz in 1970 for one of the bar's famous regulars, Dean Martin, and was purportedly such a hit that Frank Sinatra once ordered a round for everyone in the restaurant.
2 oz. vodka
¼ oz. fino sherry
Tools: barspoon, strainer, matches or lighter
Glass: cocktail
Garnish: several large strips of orange peel
Rinse a chilled glass with sherry and discard excess. While squeezing a large strip of orange peel over the sherry-rinsed glass, use a match to carefully flame the oils spraying into the glass; repeat several times with additional peels. Stir the vodka with ice until chilled, then strain into the prepared glass. Flame a final orange peel over the finished drink; garnish.